5 Great Ways to Use an iPad to Prepare for your Fantasy Football Draft
I had fantasy football in mind when I bought my iPad. I envisioned being able to pull up cheat sheets on the iPad during the draft and have stat information at my fingertips while watching games on Sunday afternoons. In the past few years since I got my iPad,  it has delivered so much more than I expected, especially when it comes to preparing for the fantasy football draft. 
The fantasy football magazine died (or should have) in the late 90's or early 2000's when the Internet became pervasive.  Then it was the laptop and WiFi that allowed you to bring your own custom spreadsheet to the draft and even pull up to the minute injury and news updates. Now with the explosion of iPads and other mobile devices, there are a plethora of apps on the market to help you research, prepare, and even select your team.
We've put together a list of 5 great ways to utilize the iPad when preparing for and drafting your fantasy football team.
Mock Drafts
Years ago, I used to think mock fantasy football drafts where just for the fun of it. I've since come to realize what a valuable draft prep tool they are when used properly. It's a great way to test draft strategies, especially when it comes to drafting in different slots and different size leagues. It's also helpful to analyze the results and try to determine what you may have done well or what you'd like to have done differently. Better to figure it out in a "fake" draft than to make mistakes when it matters.
In the world of fantasy football apps, 2013 has been the year of the mock draft. It seems virtually every Fantasy Football app includes the ability to participate in mock drafts.
There are plenty of ways to use the iPad to gain valuable fantasy football mock draft experience. Yahoo and ESPN have both included the ability to mock draft in their 2013 Fantasy Football App. So too have draft apps like the NFL Fantasy Football Cheat Sheet App, the Rotowire Fantasy Football Draft Kit, and Footballguys Fantasy Football Draft GM 2013.
Yet another ap that allows for mock drafting against computer AI picks in John Hansen's Draft Guru app. It's an native iPhone app, so the interface is a bit pixelated on the iPad, but it works quite well. It's now free in 2013.
The mock draft site at fantasyfootballcalculater.com is free and also works well on the iPad in your browser of choice. You will, of course, need an Internet connection for this one.
Watch Preseason Games
While the average football fan will bush off the preseason as an annoying tease before the real games begin, fantasy footballers know there is valuable information to be gleaned from these games. This will be your first, and in many cases only, chance to see the rookies, new starters, and players in new systems.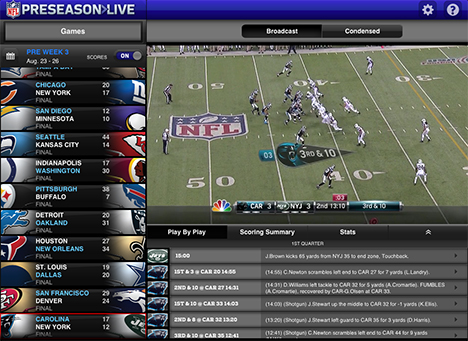 NFL Preseason Live lets fans watch every NFL Preseason game online or on their iPad with the free Preseason Live app. A subscription itself costs $19.99 for the entire preseason, but they reduce the price over time. Locally and nationally televised games are blacked out live, but everything is available on demand shortly after the end of the game. Condensed versions of the games are available on-demand so you if time is limited you can power through a game in 30 minutes or so.
You can sign up for NFL Preseason Live at NFL.com and pick up the free NFL Preseason Live iPad app from the App Store.
Podcasts
You can find a podcast on most any topic and fantasy football is certainly no exception. There are loads of fantasy football podcasts available in iTunes that produce new episodes several times per week. They discuss everything from latest injuries and position battles to breakout players, sleepers, draft strategies, and more. Check out some of the ones below or read are review of the best fantasy football podcasts.
The CBSSports Fantasy Football Podcast produces about 4 episodes per week in the preseason. (5 during the season) Hosted by CBS Sports Fantasy Football writers Jamey Eisenberg and Dave Richard  along with Adam Aizer, their shows include position previews, preseason game roundups, and even live mock drafts.
ESPN has a couple of offerings. First is the Fantasy Focus podcast (daily) that unfortunately tends to be more focused on entertainment than actual sound advice. The Fantasy Underground is a weekly podcast that focuses more on the game tape than stats. If you happen to be new to fantasy football, ESPN even has a Fantasy Football for Beginner's podcast.
Fantasy Guru is yet another that produces a couple podcasts per week. I find the analysis and tape study of Greg Cosell alone makes this podcast worth checking out. In addition to Cosell, you can hear the advice and insight of Adam Caplan, Matt Camp, and Joe Dolan.
The Audible is quality offering that puts out a few podcasts per week during the preseason. One unique feature of this podcast is they actually dedicate time to advice on IDP leagues.
There certainly are plenty others to be found, but most of them are weekly releases so if you don't listen within a day or two, the information could easily become outdated.
Drafting your Team
Whether you're participating in an online draft or offline draft there are iPad apps that allow you to rid yourself of printed cheat sheets and horribly outdated magazines.
Both the ESPN Fantasy Football and Yahoo Fantasy Football Apps now allow for live drafting.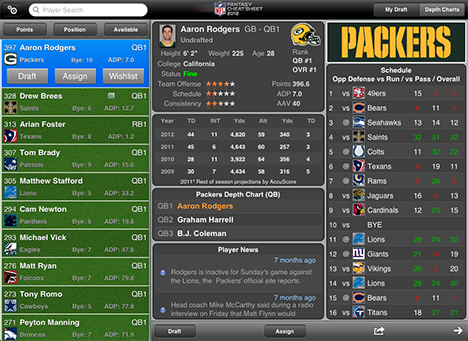 For those drafting offline, I recommend either the NFL Fantasy Cheat Sheet for iPad (review) or the RotoWire Fantasy Football Draft Kit (review). The NFL Fantasy Cheat Sheet is ideal for commissioners or really anyone who wants to track everyone's picks, while the RotoWire app specifically tracks just your own picks.
Running Your Live Draft and Using a Digital Draft Board
The Draft Board for Fantasy Football App (Review) is a really cool app that allows you to run your live draft from an iPad and display a digital draft board on your TV or Projector. It's works especially well with an Apple TV. You pass the iPad around and each player makes his pick. Each pick can be displayed on a TV or projector via a connected computer or laptop. You'll need a WiFi connection and either a computer with a web browser to connect to a TV or projector, or an Apple TV. The Draft Board for Fantasy Football App (download) is available from the App Store for $19.99.
If you are little more adventurous and want to save some money, here's how you can make your own digital Fantasy Football Draft Board with Google Drive.
Overview
In just a few short years the iPad has become an essential tool for my fantasy football draft prep. Got extra time on your lunch break? Bang out a quick mock draft. Long commute to work? Download a fantasy football podcast. On the treadmill at the gym? Watch some preseason games, pre-rank players for your draft, or catch up on the latest fantasy news. I shudder to think about returning to the days of highlighters, pens, and paper.




by