Review: Rotowire Fantasy Football Draft Kit 2013 iOS App: Now with Mock Drafts
Looking for a great Fantasy Football draft app for your 2013 draft? Look no further than Rotowire Fantasy Football Draft Kit 2013. 
Setup
To get up and running most effectively, open the Settings tab along the bottom and set up your draft (or drafts). This will allow the rankings to be adjusted based on your scoring system. There are tons of settings for almost any scoring system and league type, including auction. Keepers can be added and set to be applied as a pick in any round.
Draft Grid
The draft grid is a new feature for 2013. It simply displays all the draft picks in a typical draft board grid pattern. Note: You can turn on color coding for the grid in the settings.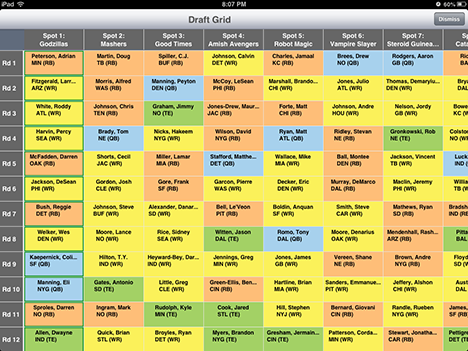 Mock Draft
Another awesome addition for 2013 is the Mock Drafts. It uses your Settings information and allows you to draft against AI.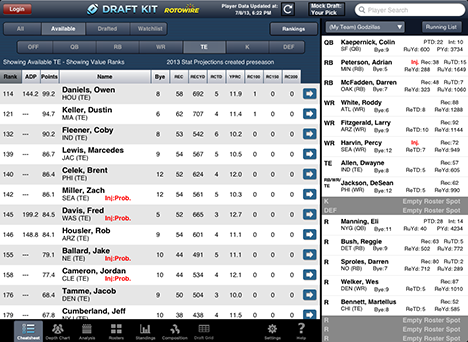 Drafting
There have been some relatively minor cosmetic updates to the UI, but it's still the same great app it has been for years. You can choose to draft for just your team or the entire league (this is set in the draft settings), choose which position to assign to a player (ex: Wr or FLEX), or add player to the watch list.
Players can be filtered by position or overall, available, drafted, all, or watchlist.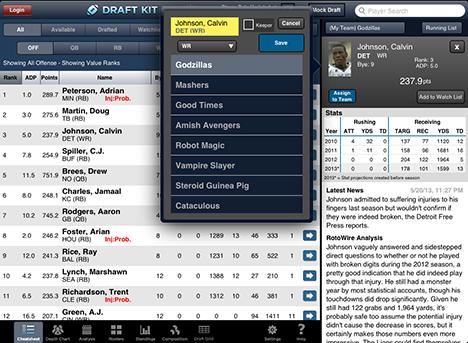 Rankings
Rankings can be done by value based  (default) determined by league settings or by setting your own manual rankings.
Depth Charts and Analysis
Depth Charts (See the tab along the bottom) for all teams and positions. You can also select / draft players from this screen.The Analysis tab gives you latest news, articles, and blogs from Rotowire.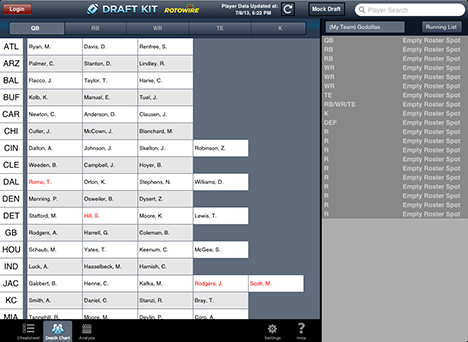 The app doesn't require an Internet connection to use it. You will want to update as close as possible to your draft. If you go longer than 24 without updating, you'll get a pop-up reminder when you log in.
Overview
I was a big fan of Rotowire's draft kit in previous years and this is no different. They've done nothing but improve the app and add quality features. In past years we've felt it was the best of breed for Fantasy Football draft apps. We've still got a few more to evaluate for 2013, but Rotowire Fantasy Football Draft Kit 2013 is undoubtably a great choice.
Cost: $4.99
Links
iPhone: RotoWire Fantasy Football Draft Kit 2013 – Roto Sports, Inc.
iPad: RotoWire Fantasy Football Draft Kit 2013 for iPad




by