Review: NFL Game Rewind: Watch On-Demand NFL Games Streaming Online
NFL Game Rewind is back for 2013. If you want to watch every NFL game on-demand online this season, NFL Game Rewind is your ticket. Check out our review of this season's product.
UPDATE (August 2015): NFL Game Rewind is now part of the NFL Game Pass Domestic Package. You can order or get more info at NFL.com/gamepass.
NFL Game Rewind is the NFL's digital online product that allows fans to watch every NFL game on-demand and online the day after it's original live broadcast. It works wonderfully in all major browsers and on Mac or PC.
Subscriptions
There are four different NFL Game Rewind subscription options now for 2013.
Season Plus ($69.99) – This edition gives you access to all the features of NFL Game Rewind through July 31st of 2014. You get complete coaches film for every play on 2013, plus access to all the playoff games and the Super Bowl.
Season ($39.99 or $10.99 per month) – This gives you access for just the NFL Regular season. At the end of the regular season your subscription will end and you don't get access to the playoffs.
Follow Your Team ($29.99) – If you only care about one team, this subscription gives you regular season access to just your favorite team.
Watch For 7 Days ($9.99) – You guessed it, this one gives you access to NFL Game Rewind for one week.
All versions give you tablet access HD video, DVR controls, quad view, and archived games. The Season and Follow Your Team subscriptions only get a limited amount of Coaches Film (a few plays per game) and don't give you playoff or year round access. The Season Plus and Season subscriptions also provide Classic Super Bowl games. (back to 2009)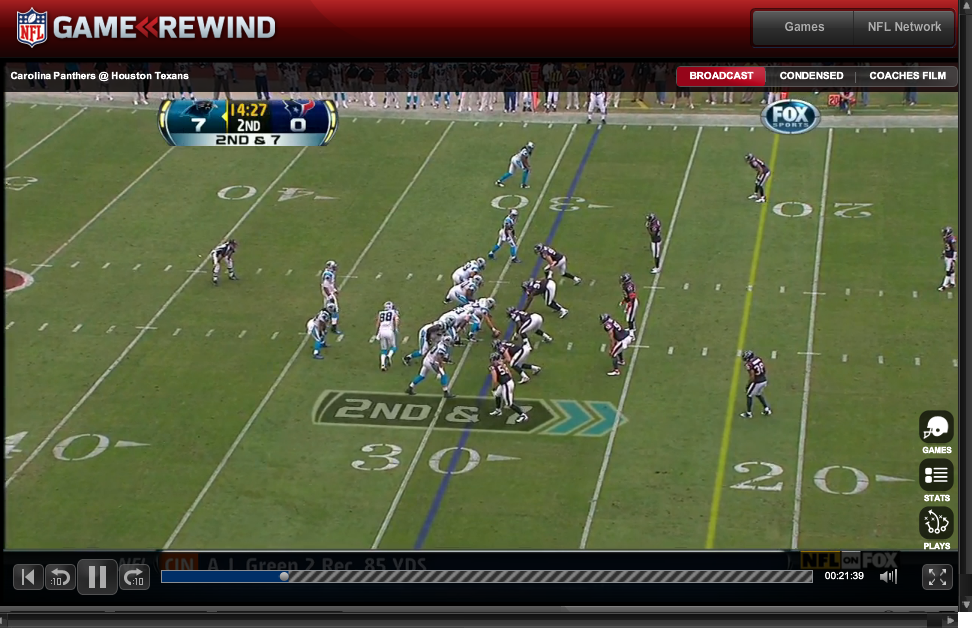 New Features
NFL Game Rewind brought some significant and exiting new changes in back 2012. First, is the "All-22" or Coaches film.  This is the same wide angle views that coaches around the league use. You actually get two views of every play. The first is a high angle view from the side, and the second is a high angle end zone view. They are run back-to-back for each play. If you get into the "X's" and "O's" of football, you are really going to love this feature.
The Coaches film is a cool way to view individual plays, but it's far from an ideal way to watch a game.  First of all, there is no audio or other TV added displays. It's just the raw tape. However, the stadium scoreboard is usually shown in between plays to give you some context.
Each play is a separate clip and the clips play one after the next. The result is you can't easily fast forward or "scrub"  your way to the second half of the game. You need to go to the play by play and jump ahead to a particular play, and then watch in sequence from that point on.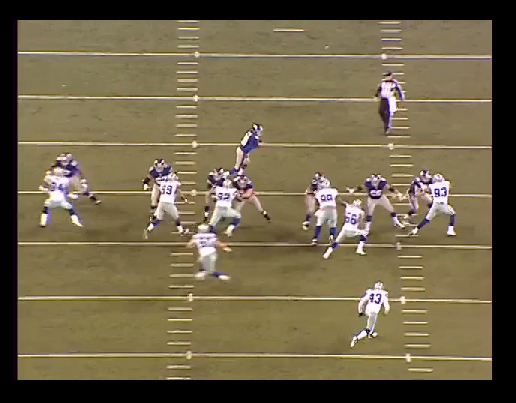 When viewing a game in Broadcast mode, you can jump over to the Coaches Film without losing your place. Since the average fan probably won't watch an entire game in Coach's Mode, this is a pretty important feature. It'll allow fans to quickly check out individual plays from the coaches camera and then jump back into the broadcast. You can't however, do the same with condensed mode.

Game Views
You can watch up to four games at a time by adjusting the View along the bottom of the screen. When you are in one of the multiple screen views, click on the screen to activate the audio of that game or hit the expand button to switch that game to full screen.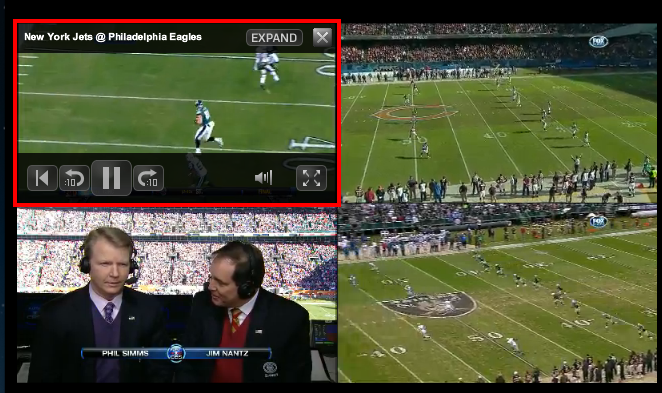 Picture in Picture allows you move the second screen around the video player by clicking and dragging and the "Swap" button let's you easily switch between games.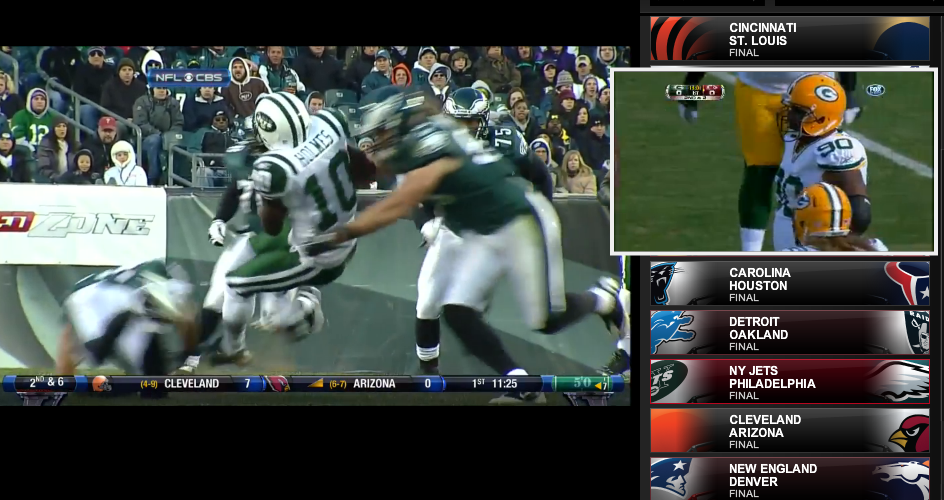 DVR Controls
The DVR Controls are the same as they were in the past. It's a basic play/pause button,  jump back and forward 10 seconds, and start over. You can also jump into full screen mode with just a click of a button.
Condensed Games
Back again are the Condensed games. Each NFL game is condensed down to about 30-40 minutes. In past seasons I've felt that this was a great idea that was less than perfectly executed. The cuts are so quick in between the plays that it can be hard to follow the game, but they've add a bit of time in between plays, added penalty calls, and it's made it a better product.
Other Goodies
If you enjoy those Top 100 NFL Player shows on the NFL Network, you are in luck. You can watch the latest Top 100 episodes from this past season under the NFL Network button at the top right. You also find an archive of NFL Gameday episodes going back to 2010. The archives have complete games, including playoffs and Super Bowls, going back to 2009.
System Requirements
You'll need to have a broadband connection and the quality of the video could be effected by bandwidth.
Windows PC Requirements
NOTE: It also works just fine for me in the Google Chrome Browser.
MAC Minimum Requirements
Note: It also works fine for me in the Safari browser for Mac.
For support issues: http://nfl.com/subscriptionsupport
Other Important Details
NFL Game rewind is UNAVAILABLE DURING SUNDAY, THURSDAY NIGHT, & MONDAY NIGHT LIVE NFL GAME BROADCASTS. Apparently the NFL doesn't want to compete with itself, so you have to wait until games are over to watch Game Rewind.
Watching on Multiple PCs at the same time with the same account is restricted. This also applies to the iPad app. If you log in on one device it will log you out on the other.
NFL Game Rewind is only available to subscribers in the United States, Bermuda, Antigua, the Bahamas, and any U.S. territories. 
Overview
NFL Game Rewind is a lesser known gem that truly deserves more attention. As in past seasons, the video quality is outstanding (assuming you have enough bandwidth) and looks great even on a large screen. If you find yourself missing games on Sundays or just want to re-watch NFL games, this is the ticket.
One small bummer is the blackouts during any live NFL games, however, this has only ever been an issue for me once or twice. For example, there was a time or two when the Monday Night game was a blowout and I wanted to watch a game from the previous day only to find that I had to wait until Monday Night Football was over.
How soon can you watch the games? Sunday afternoon games are available around midnight on Sunday (after the Sunday Night game). Any evening games are available by noon the next day. These times are general guidelines, however, I wouldn't necessarily bank on a game being available Sunday night at 12:01.
You can also watch on your iPad and some Android tablets through a separate and free app download. (We reviewed the NFL Game Rewind iPad app separately)
I've been a subscriber of Game Rewind for several years and I've really enjoyed it. In the past I've found myself using it less as the season wore on, but with the addition of the iPad access I used it even more.
Purchase
You can order NFL Game Rewind from NFL.com




by