Now You Can Watch Condensed NFL Games Online with Game Rewind
Game Rewind is the NFL's online streaming product that  allows you to watch every NFL game online, on demand, and commercial free  throughout the season. This allows you to watch a complete game in around 2 hours. Now, you can watch them even faster.
NFL Game Rewind now offers "Condensed" versions of every NFL game, which allows viewers to watch a game in around 20-30 minutes. These condensed games are literally only the actual plays from snap to whistle, plus any penalty calls.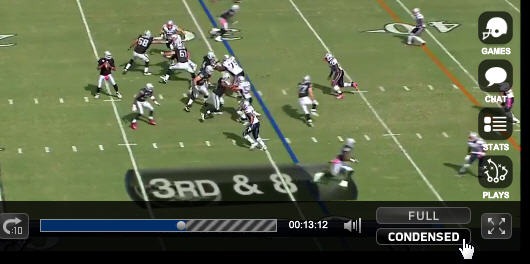 It's fast action and I did feel like I missed out some relevant information at times. For example, while watching an Oakland – New England game a pass down around the goal line was called incomplete by the announcing crew and the video shows a ref signaling incomplete. I assume the play was either overruled by another official or reviewed and overturned because the action immediately jumps to New England running the next play from the goal line.
You can currently buy Game Rewind from NFL.com for $29.99 for the rest of the season.




by