Review: Footballguys Fantasy Football Draft GM 2013
The Footballguys have released a new fantasy football draft app called Footballguys Fantasy Football Draft GM 2013 that includes the ability to perform mock fantasy football drafts offline, along with live drafting functionality and Footballguys content.  
Footballguys Fantasy Football Draft GM 2013 is currently available for iPhone and iPad. (Note: A magazine app is promised soon with this GM app functionality built in.)
Mock Drafts
The best part of the app is the ability to perform unlimited mock drafts offline against an AI. You set up a league based on scoring, number of teams, etc. and the rankings are adjusted accordingly.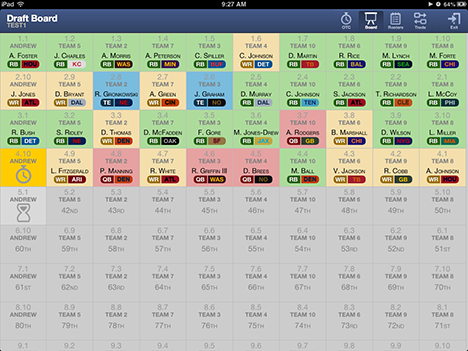 The player pool can be filtered by Value-Based Draft (VBD), Position, or ADP. Tap a player to add him to the shortlist and use the sub-tabs to see more information. A long tap drafts a player so be careful when selecting. I would prefer a separate button or function just to reduce the possibility of accidental drafting.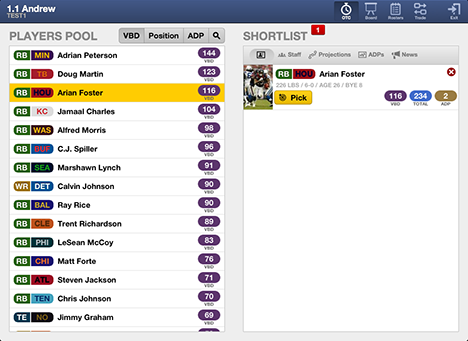 A really nice feature is the ability to compare multiple players by adding them to the shortlist and then selecting a sub tab. This can be filtered by Total Points or PPR.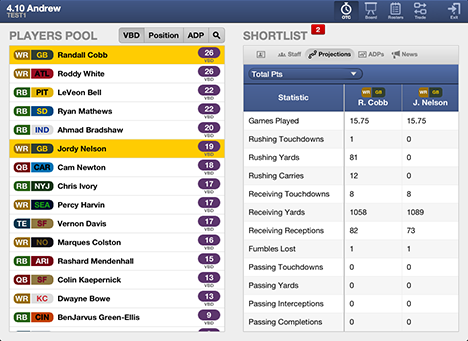 You can set the time for each pick for the AI, but not for yourself, so you can't really apply any pressure to yourself when you pick. Take all the time you need or want.
Live Drafts
It's during a Live Draft that the clunkiness of this app becomes apparent. It's not really clear if the goal of the live draft function is to be a draft app for an individual, or to function as a virtual draft board for an entire league. My guess is the latter, but it's not particularly well suited for either. If using it as an individual, there is no way to really focus on your team during the draft. The OTC (On the clock) section moves to the current team so you can't add to the shortlist when another team is on the clock.
The layout seems more designed for an individual during a draft, but the functionality seem pointed towards a virtual draft board. Future versions really need to either make a distinction, or tweak it so it works for both.

Outside the Draft Functions
When you are not in a live draft the app serves as a research guide with projections, rankings, info, etc.
Players Tab
On the Players tab, players are filtered by position based on value, but unfortunately you can't sort by all players.  Tapping a player pulls up a player card on the right with a handful of sub-tabs: Staff, Projections, ADPs, and News.
The initial player screen provides an image with media guide type info that is meaningless to fantasy football players like weight, dob, age, and round drafted.  This forces the user to tap a second time to get to the meaningful stuff.
The Staff sub-tab provides short paragraph opinions on the player from Footballguys contributors. Not everyone has posted opinions on all players, so big name players will have plenty of write-ups while lesser players not so much. I'm guessing that contributions will be added as data is updated, but that's just a guess on my part.
Projections are provided by four different contributors with there initials along the top row. I'm not a devout reader of the site (I do sometimes listen to their podcast, however) so I don't know who they are based on initials without looking it up. (Note: they are listed in the settings) For live and mock drafts they use a consensus ranking which is a good thing. While prepping you might want to compare rankings but during a live draft that would likely just be too much clutter.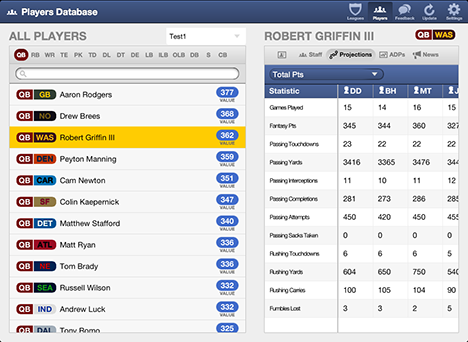 ADPs displays both overall and position ADP with changes by date. These can be filtered by regular scoring or PPR scoring. The News section pulls in notes and updates that relate to the individual player.
Settings
The settings allow you to customize just two options. You can adjust the input of four Footballguys contributors on the draft projections with sliders. The other option available is adjusting the time between the AI picks. The default is one second, so your mock draft flies by and you don't waste any time.
Overview
Where this app stands out is with the Mock Draft feature, which in itself probably would make this app worth owning. However, if you are planning to use it mainly for live drafts, you'll definitely want to look to other apps like RotoWire Fantasy Football Draft Kit or NFL Fantasy Football Cheat Sheet.
Cost: $2.99
Strengths 
Price point of $2.99 is very fair.
Mock draft feature
Weaknesses
UI is underwhelming
Navigation is clunky and can be confusing and unresponsive at times
Not very well suited for live drafts
Links
iPhone: Footballguys Fantasy Football Draft GM 2013
iPad: Footballguys Fantasy Football Draft GM 2013 for iPad




by