Watch NBC's NFL Wild Card Playoff Games Live Online, iPhone, or iPad
Once again in 2013, NBC will broadcast the Saturday NFL Playoff games during Wild Card weekend. And, once again, those NFL Wild Card games will be available to stream online and on your computer or mobile phone or tablet.
NFL Wild Card Live Streamed Games
Only the Wild Card games of Saturday January 5th will be streamed by NBC Sports. The games will be live streamed via NBC Postseason Extra, which is basically be a post-season version of  Sunday Night Football Extra which delivers additional camera angles, sideline updates, and DVR controls.
iPad and iPhone owners can access the live stream by either downloading the NBC Sports Extra App (see links below) or by accessing the direct iOS link in the browser (see links below). Note: If you try to access the iPad link over the computer browser it tosses you over to the NFL Verizon Wireless page.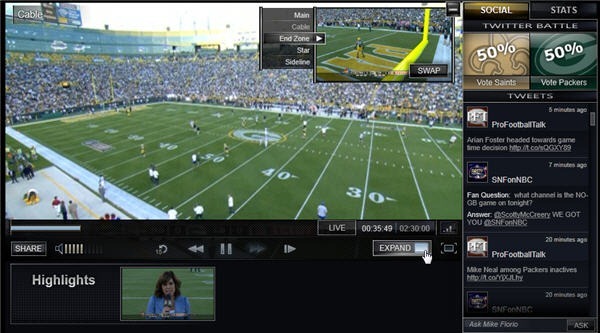 On Sunday, you are stuck with TV only coverage, but you can listen online with NFL Audio Pass.
Links
Watch NBC Wild Card Football Online 
Watch NBC Wild Card Football on iPhone & iPad
Download NBCSports Live Extra App for iPad
Download NBCSports Live Extra for iPhone




by