NFL Sunday Night Football Live Stream Now Available via Yahoo
NBC Sports and Yahoo announced earlier this week a partnership that will allow the two properties to share digital content.   One of key component of this announcement is that Yahoo will begin to link to and promote NBC Sports live streaming events such as Sunday Night Football, Notre Dame Football, and NHL Hockey (assuming they ever settle this silly work stoppage). 
Some of the highlights from the press release include:
· Live Streaming: Yahoo! Sports will link to and promote the NBC Sports Live Extra video player. Fans will be able to watch live streams of some of NBC's biggest events, starting with Sunday Night Football and NHL Game of the Week. Live content from NBC Sports Network will continue to be distributed through NBC Sports Live Extra on a TV Everywhere basis.

· Fantasy Sports: Yahoo! Sports, the leading fantasy platform, will become the exclusive fantasy game provider of NBC Sports' Rotoworld, the premiere fantasy news and information site. This will include Yahoo! Sports' fantasy experiences for football, baseball, hockey, soccer, College Bowl Pick'em and Tourney Pick'em.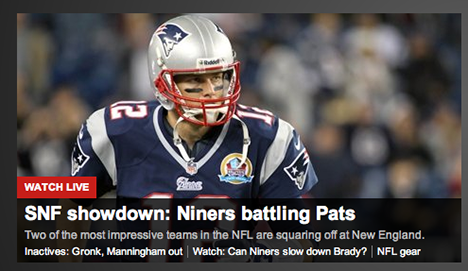 At this point, Yahoo merely links directly to NBCSports' online viewer from a variety of pages on their site, like the sports page, and even yahoo.com. I do hold out hope that at some point in the future, they embed the video in with their fantasy football section so you can watch the game while simultaneously watching your fantasy score.




by