NBC Sports once again will have Sunday Night Football in 2012. For all of you rabid NFL fans who can't watch the game on TV, the fine people over at NBC have you covered with SNF Extra. With SNF Extra you can watch every Sunday Night Football Game of 2012 live online.
You can launch the SNF Extra Player here at NBCSports.com. The video usually becomes available shortly before the game begins so if you tune in early, you are likely to see players warming up and preparing for the game.
In Reveal mode you  can view tweets from @SNFonNBC and @ProFootballTalk, check stats, watch highlights or chat with PFT's Mike Florio.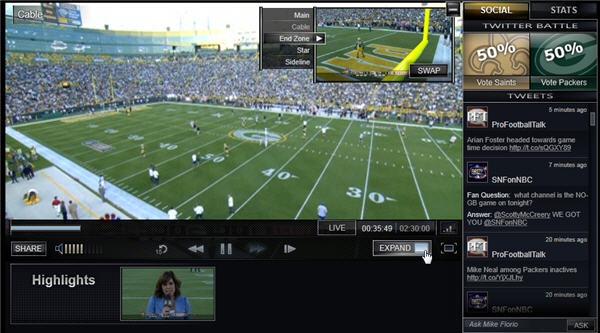 Hitting the Expand button lets you hide all those extras and focus on the game video. The video player can also be expanded to full screen.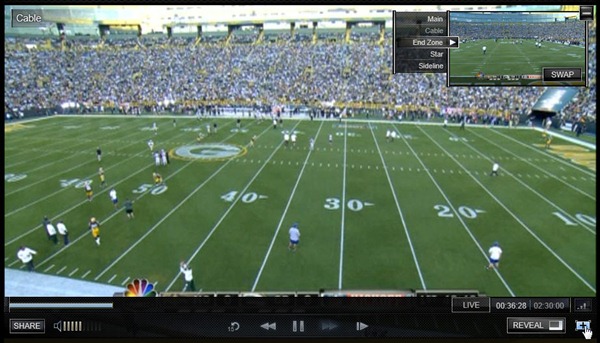 There are 5 different exclusive camera angles available in the PIP box which can be swapped with the main camera feed.

The SNF Player has DVR style controls allowing you to pause, forward, rewind, or jump back 15 seconds.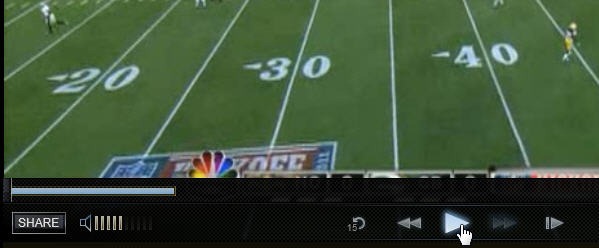 After pausing the player you can choose to keep watching from where you left off, or you can "Go Live" to jump ahead to the present time.

Overview
SNF Extra is a more than acceptable way to watch an NFL Game. NBC advertises HD, and the picture can be quite good, but we experienced quite a bit of reduced quality video as the bandwidth fluctuated. You get the "real game" as broadcast on NBC in addition to the exclusive extra camera angles, which is nice when compared to some products that are more along the lines of a supplement to the TV telecast. We noticed this year and last that the SNF Extra stream is maybe 30-60 seconds behind the TV broadcast, so keep this in mind if you don't want "spoiler" tweets or texts from friends. We'd also be remiss if we didn't mention that Verizon Wireless customers can also watch Sunday Night Football on their iPhone or Android device with the NFL Mobile app by Verizon. Follow all the latest from NBC Sunday Night Football at snfallaccess.nbcsports.com.
Watch Sunday Night Football Live Online
Category: Live Sports Online, NFL