How to Watch NFL Games Online Legally: The Complete Guide
Are you looking for ways to watch NFL Games legally on your computer, mobile phone, or TV connected device? We've compiled all the available ways to legitimately live stream NFL Games online. Some products are on the pricey side, but some are available for free.
Sunday Night Football
The NFL's Sunday Night Football schedule has consistently provided premiere NFL games since NBC took over the Sunday night broadcast. Flex scheduling allows SNF to show games with top teams and with playoff implications even when the originally scheduled games turn out to be less than stellar.
In order to live stream Sunday Night Football to your computer or TV connected devices, you'll need to either have a cable TV subscription and authenticate through your provider, or subscribe to one of the online TV services such as Playstation Vue, Sling TV, Hulu with Live TV, Direct TV Now, FuboTV, or YouTube TV that include NBC as part of their streaming packages. Network availability is largely dependent on your region. You'll need to check with each of these services individually to see if they offer NBC as part of their offering in your area.
The NBC Sports app can be used to watch the game if you authenticate through your provider.  You can also watch on you computer at NBCSports.com.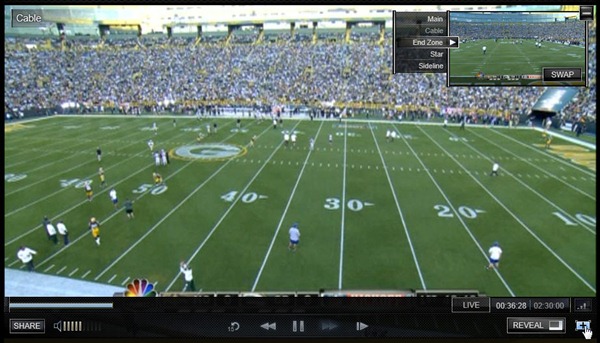 If you wish to watch Sunday Night Football on your mobile device, you are in luck. Sunday Night Football (and all local and national NFL games) are available for free by using the Yahoo Sports App or the NFL app. All you need to do is install one of those apps on your Android or iOS device.
Monday Night Football
If you subscribe to ESPN through a participating provider you can watch Monday Night Football live online on WatchESPN.com.  WatchESPN is available on all mobile, tablet and TV connected devices.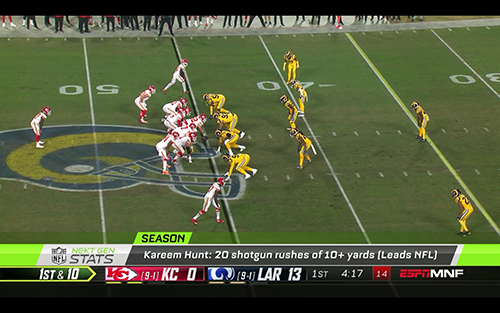 The other option for live streaming Monday Night Football is by subscribing to any of the major TV streaming services such as Playstation Vue, Sling TV, FuboTV, Hulu with Live TV, Direct TV Now, or YouTube TV. All of these providers include ESPN with even their least expensive packages. The lowest cost package is Sling Orange which runs $25 / month.
As with Sunday Night Football, you can also watch Monday Night Football on mobile for free with the Yahoo Sports App or the NFL app. This is the only truly "free" option for live streaming Monday Night Football.
Local Sunday Afternoon Games
Fox and CBS own the rights to local NFL Sunday afternoon games. Beginning in 2018, All local NFL in-market games are available through the Yahoo Sports and NFL mobile apps. This is for mobile only, however.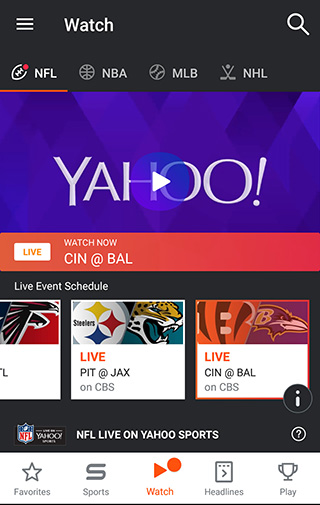 You're best best if you want to get all your in market Sunday NFL games for free is with an over the air antennae. If that isn't an option, here are your  other options to watch online.
CBS All Access is a streaming subscription service that allows you to stream all in market games available on CBS on any mobile tablet or tv connected device. Subscription service options begin at $5.99 per month (after a 7 days free trial) and includes loads of additional CBS live ad on-demand content. You can also purchase a CBS All Access subscription through Amazon Prime. If you sign up through Amazon and want to use a CBS app on mobile, Fire TV, Apple TV, Xbox, etc., you'll need to verify your Amazon account here.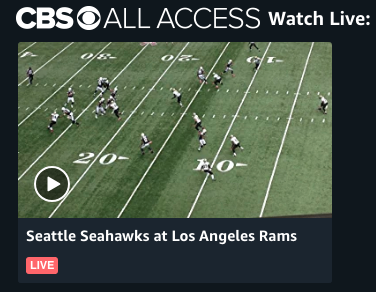 NFL Games on Fox are also available for streaming, but require TV provider authentication. Games are available on your computer via the browser at FoxSports.com, or on mobile, tablet, or TV connected devices via the Fox Sports To Go app.
The other option is to watch through the TV online streaming services. Not all of them offer local CBS and Fox stations in all areas unfortunately. You're best bet is to check out  Playstation Vue, Sling TV, Hulu with Live TV, Direct TV Now, FuboTV, and YouTube TV to see which one(s) offer CBS and/or Fox in your area.
NFL Sunday Ticket Online
NFL Sunday Ticket is offered only by DirecTV and gives you access to every Sunday Afternoon NFL game, with the exception of games already broadcast locally in your area. NFLSundayTicket.TV is the stand alone streaming service available to non-DirecTV subscribers who cannot purchase DirecTV because they live in certain apartments, condos, etc. where the service is not available. It also available in some metropolitan areas and available to college students.
The big issue with product is the cost. NFLSundayTicket.TV features 2 different packages that range from just under $294 to just under $396 / season. That's more than most fans will pay unless they are a fan of an out-of-market team and can't otherwise watch.
Check out our detailed post on subscribing to NFL Sunday Ticket online without DirecTV for more details.
College Students
NFLSUNDAYTICKET.TV U is available to students currently enrolled in post-secondary educational institutions at a discounted cost of $24.99 per month for four months ( $99.96 total). You'll need to check your availability before you can order.
Thursday Night Football
If you are an Amazon Prime
subscriber you can watch many (not all) of the NFL Thursday night lineup in 2018. There are 11 games that are available this season with Amazon Prime. The season opener and Thanksgiving night games are notable exceptions.
A few of the Thursday Night Games (the Kickoff game and Thanksgiving Night) will be broadcast on NBC. The rest will be seen on NFL Network exclusively. The NFL Network games will require you to authenticate with a TV provider, or subscribe to one of the streaming TV services. Currently, only Playstation Vue (The "Core" or higher packages: A$49.99 / month and up), the Sling "Blue" package ( $25/month) and DirecTV Now ("Just Right" ($55/month) and higher packages) offer the NFL Network.
All mobile users can live stream Thursday Night Football for free with the Yahoo Sports App or the NFL app.
NFL Game Pass – United States and Territories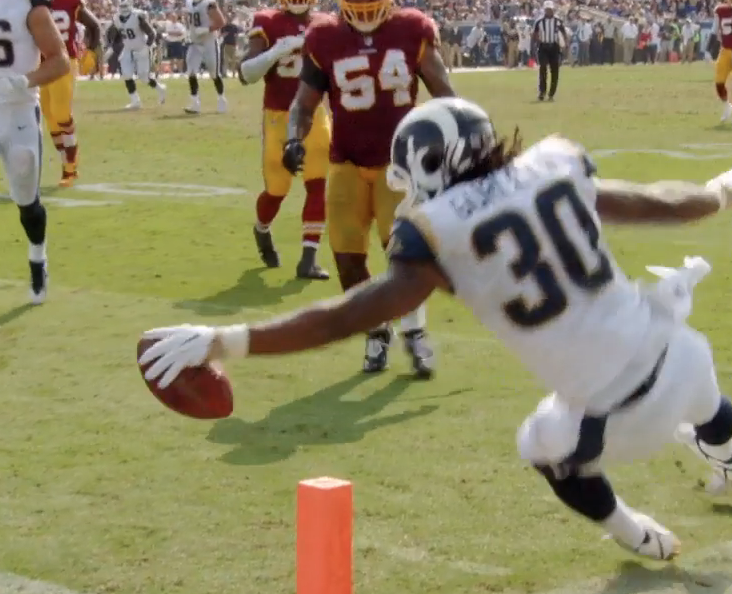 Get NFL Game Pass
is a great option if you don't mind waiting for the next day.  It includes not only on demand NFL regular season games after they are over, playoff games, Super Bowl, and live NFL preseason games. The current price for a full season is $99/year. NFL Game Pass comes with condensed games in about 45 minute and the all-22 coaches film. All Sunday afternoon games are available after the end of the 4pM ET games on Sunday, except for night games which are available by noon. Check out our review of the old NFL Game Rewind for more details on how it works.
Subscriptions run through July 31st of the next year, so if you buy in season you can enjoy all off-season as well. The price of NFL Game Pass is typically drops in season to $79.99 about mid-season and then down to $49.99 later in the year.
Check out NFL Game Pass for more details.
NFL Preseason Games
All out-of-market NFL Preseason games are available to live stream and watch on demand through NFL Game Pass.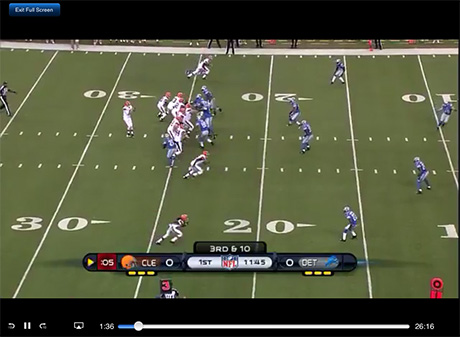 You can also watch local in-market and live national pre-season NFL games on mobile for free with the Yahoo Sports App or the NFL app.
NFL RedZone Online
If you get NFL RedZone as part of your TV package, you can authenticate and watch on NFL.com
The NFL RedZone is also included with the NFLSundayTicket.TV Max package version.
As far as the streaming TV services go, the following options currently have NFL RedZone:
Sling Blue with the Sports Extra package $25 + $10 for the sports package.
Playstation Vue requires Core, Elite or Ultra Plan  (Core starts at $49.99+ $10 Sports Pack)
FuboTV with the regular ($39.99) or Extra ($49.99) package and the Sports Plus package for $8.99 per month.
Overview
We are almost to the point where every NFL game is available to legally watch live online. As far as we're concerned, that day can't come soon enough.




by