Guide to Watching NBA Games Online, on iPhone, iPad, and Android
Want to catch live streaming NBA action on the Internet or on the go? Here's our complete guide for watching NBA online and on iPhone, iPad, and Android mobile devices.
NBA League Pass Broadband
This product from NBA.com gives you access to all NBA games that aren't broadcast locally or nationally (Premium package – $199.99 / year), or all games for up to 5 NBA teams (Choice package – $139). The player itself is quite nice and allows for viewing up to 4 NBA games at one time. You can watch on your computer, your iPad or Android tablet, and many TV connected devices like XBox 360, PS3, Apple TV, and Roku. NBA League Pass Broadband does not include access on your mobile phone. FOr mobile access, you'll need to purchase NBA League Pass Mobile. (see below)
In our past season review of NBA League Pass Broadband, we felt it was a good product as long as you understand the blackout rules and are OK with them. It's ideal for fans of out of market teams that aren't often on TV, or folks who just can never get enough NBA. There is a free preview of NBA League Pass through November 5th, 2103 for those that want to give it an early season test drive.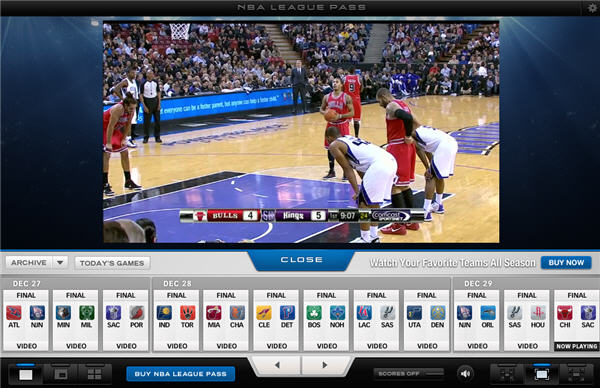 NBA League Pass Mobile
NBA League Pass Mobile lets you watch live NBA action from your iPhone or Android device for $54.99. Sprint customers can purchase it for $43.99. It essentially the same deal as NBA League Pass Broadband but only for your phone. Be sure you understand the blackout rules before purchasing because you won't get local teams or any games broadcast nationally on ESPN, TNT, ABC, etc.
We thought this was rather pricey, especially considering the blackout restrictions, but if you'd like to give it a try, you can download NBA Game Time from the App Store or find it in the Android Market.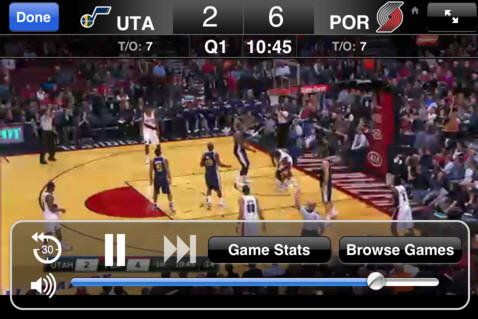 NBA Game Time App for iPad
NBA Game Time Mobile is not available for the iPad, but you can still watch live out-of-market NBA games on your iPad by subscribing to the NBA League Pass (through your TV provider) or NBA League Pass Broadband ($199 for all teams or $139.99 for your 5 favorite teams).  By linking your League Pass subscription to the NBA Game Time app, you'll be able to watch live NBA action on the iPad.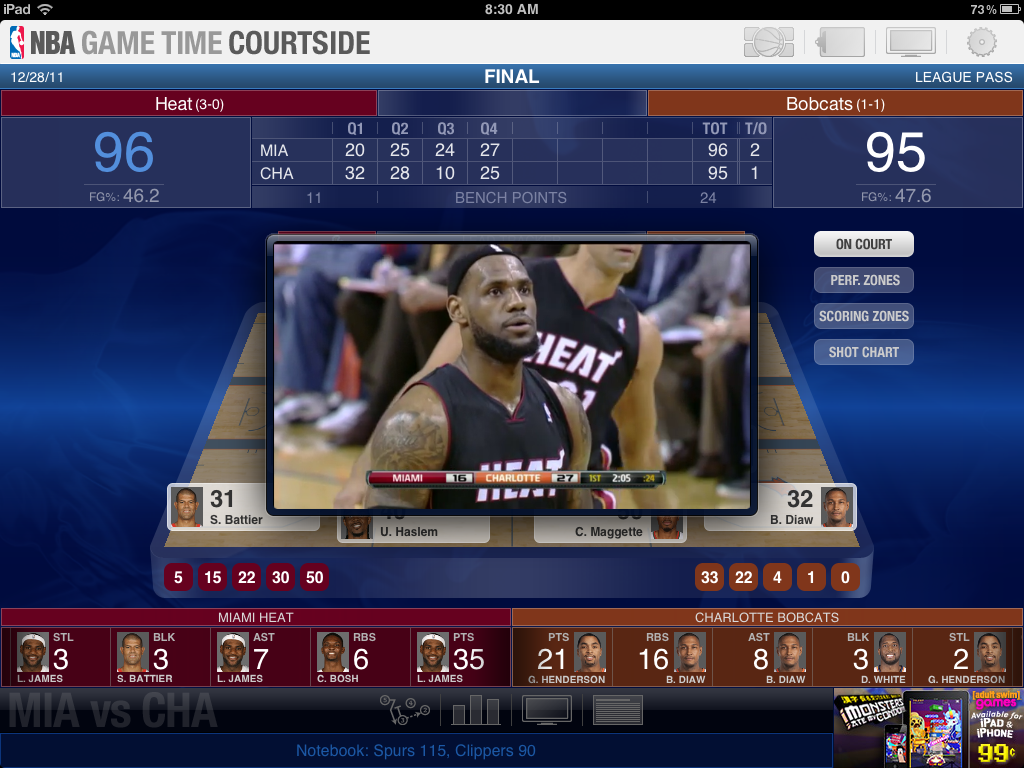 TNT Overtime
TNT typically airs two NBA games every Thursday evening during the regular season with some occassional Monday and Tuesday dates as well. These games are often (not always) available online through TNT Overtime. Although intended to be used as a supplement to the TNT broadcast, it's not bad as a standalone way to see a game if you have no other option. Since the death of ESPN3 as a destination for quality sports programming, TNT Overtime stands alone as the only real free option to watch NBA games legally online.
With TNT Overtime you can watch up to four different camera angles simultaneously in "Mosaic" view, or just follow the action with the Action Cam.
Check out the full 2013-2014 TNT NBA schedule. Note that the games marked with the TNT overtime logo are available online with TNT Overtime.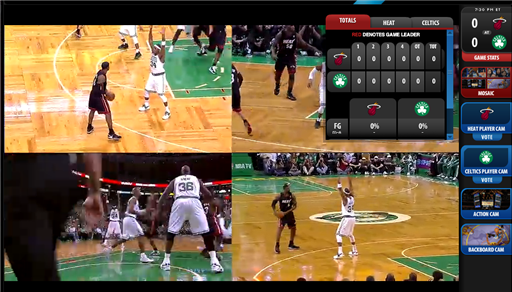 There is also a very cool feature, Player Cam, in which a one camera will isolate on a single player. This usually last for the entire half, even when the player is one the bench.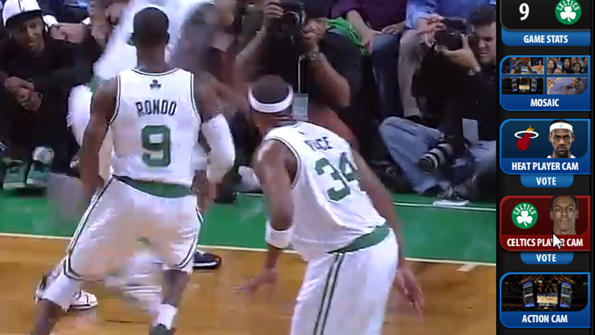 NBA Audio Pass
For those of you who enjoy listen the NBA games, there is NBA Audio Pass. It's free, you just need to register for an All Access account at NBA.com. Listen to any game, and choose whether you'd like to listen to the home or away announcers.
We've heard some complaints that it can be a bit glitchy, but it's there if you need it.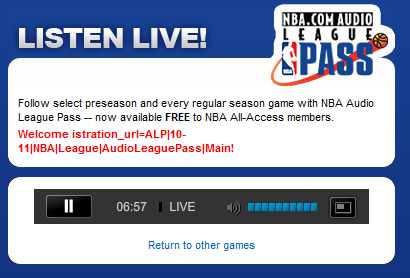 by