Listen to Ohio State Football Radio Streaming Online and Mobile
Are you an Ohio State football fan looking to listen to radio broadcast online or mobile? If so, you've got plenty of options.
The radio voices of Ohio State Football are play-by-play announcer Paul Keels and former Ohio State offensive guard Jim Lachey doing color commentary. Here's how you can listen to them call games online or on mobile.
For fans looking to listen on their computer or laptop, you can listen for free on OhioStateBuckeyes.com. The player includes simple play / stop control and volume slider.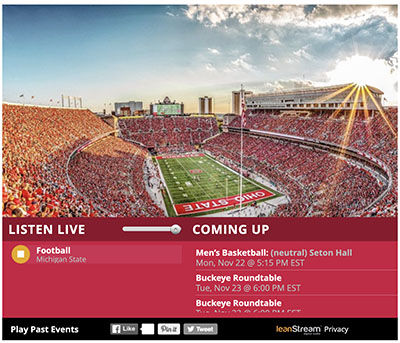 TuneIn Radio Premium – Mobile and Streaming on Tablet or Computer
You can hear every Ohio State Football game along with a plethora of pro and college sports on TuneIn Premium. A subscription will cost you $9.99 and month after a free trial period. You can also listen on connected home devices like Alexa, Cortana, and others. Mobile apps are available for iOS, Android, and Microsoft.
SiriusXM
SiriusXM also broadcasts all Ohio State Football games along with other sports like the NFL, MLB, and others. A variety of subscription options will allow you to listen at home, in your car, or on mobile with their mobile app.
The Varsity Network App
A free mobile option is The Varsity Network app is available for iOS and Android. The app broadcasts live radio streams for many college sports including Ohio State football.
Terrestrial Radio
If you live in or around Ohio you can listen on one of the many affiliates that carry Ohio State Football games.




by