Listen to the MLB Playoffs and World Series Live Online, iPhone, Android, or iPad
Looking for a way to listen the MLB playoffs and World Series? Here are a variety of option for listening online, or on your iPhone, iPad, or Android device.
Listen Online
ESPN Radio will be carrying the MLB Playoffs from the first pitch of the Wild Card to the final out of the World Series and you can hear it all online at ESPNRadio.com.
You can find the MLB Playoff radio schedule here at ESPN.com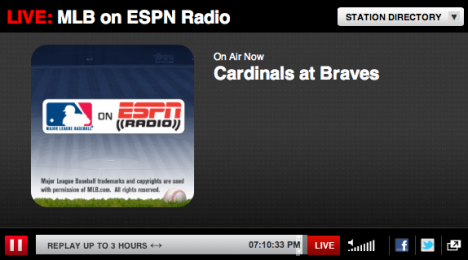 iPhone, iPad, or Android
MLB At Bat '13 App
Live audio streaming will also be available through the MLB At Bat '11 App. If you don't already have the app, you can buy it now at a reduced price.
iPhone: MLB.com At Bat 13 – MLB.com
iPad: MLB.com At Bat 13 for iPad – MLB.com
Android: Download MLB At Bat '13 from Android Market
ESPNRadio App
The ESPN Radio app brings you the MLB Playoffs along with all the other ESPN content and even ESPN podcasts.
Download ESPN Radio for iPhone, iPad, or Android
TuneIn Radio
The TuneIn Radio is free and carries loads of Sports Talk Radio stations (along with other radio stations) including ESPN Radio. Browse or search to find an ESPN Raio station. ESPN – Bristol is the main network station.
Download TuneIn Radio for iPhone or Android. (Free)




by