Listen to the MLB Playoffs and World Series Live Online or Mobile
Looking for a way to listen the MLB playoffs and World Series? Here are a variety of option for listening online, or on your iPhone, iPad, or Android device.
Listen Online
ESPN Radio will be carrying the MLB Playoffs from the first pitch of the Wild Card to the final out of the World Series and you can hear it all online at ESPNRadio.com.
You can find the MLB Playoff radio schedule here at ESPN.com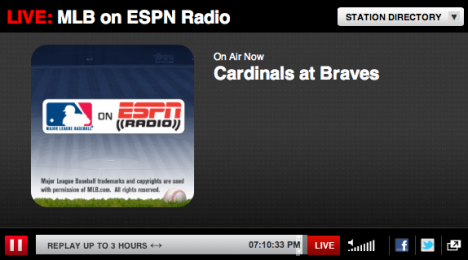 iOS or Android
TuneIn Radio
TuneIn Premium ($9.99 / month) carries loads of live sports including MLB playoffs and World Series.  
Download TuneIn Radio for iOS or Android. 
MLB.TV
Live audio streaming will also be available through the MLB.TV Postseason Package. MLB.TV includes other features including on demand video of every game. This subscription includes next year's Pre-season games as well. 
SiriusXM
SiriusXM will have every pitch of the MLB post-season available on their platform. They have subscription options for your car, streaming online, or both. They typical have some generous introductory deals so you can try it out without much out-of-pocket costs.




by