Watch Every 2011 NFL Pre-Season Game Live Online or On Demand
NFL Fans have a had a long and frustrating off-season waiting and hoping for the lockout to get resolved. Now that the players and owners have finally decided how to divide up the revenue, the wait for NFL football is almost over. We still have a month to go before the games begin to count, but the NFL Pre-Season gets underway Thursday August 11th. With with NFL Preseason Live
you can watch every game online, live or on demand.
UPDATE (August 2015): NFL Game Rewind is now part of the NFL Game Pass Domestic Package. You can order or get more info at NFL.com/gamepass.
IMPORTANT NOTE: NFL Pre-Season Games are subject to the same blackout rules as the regular season. Game that are not sold out will not be available live. Also, if a game is broadcast locally in your region, even if it is a national game, it will also not be available live. However, all games will be available on demand. Most games will be available by the next morning. Some games, such as national broadcasts, will be available 24 hours after the game.
*NFL Preseason Live is only available to users within the United States, Bermuda, Antigua, the Bahamas, and any U.S. territories, possessions and commonwealths (including American Samoa, Guam, Puerto Rico and the US Virgin Islands).
The layout of the video player has changed a bit since last season, but all the key features appear to back. As we noted in our review last season, the presentation and delivery of these games is top notch. Assuming you have a good broadband connection, you won't be disappointed by the quality.
Once again, you can watch up to four games at once and very easily switch games or go to full screen.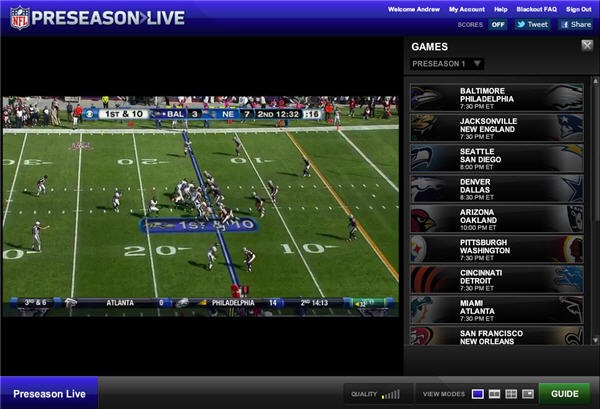 After launching the player, choose a game from the guide on the right. If the game is blacked out in your area, it will be noted in the guide.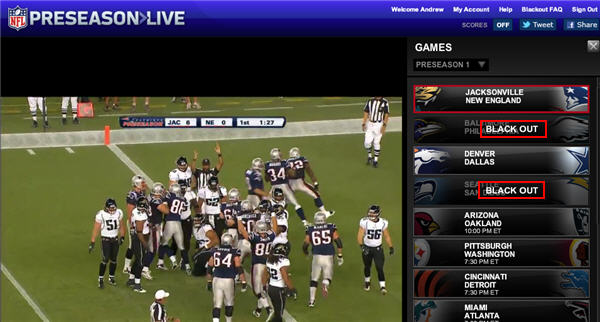 To watch multiple games, select one of the view modes along the bottom of the player and then drag and drop games onto the player.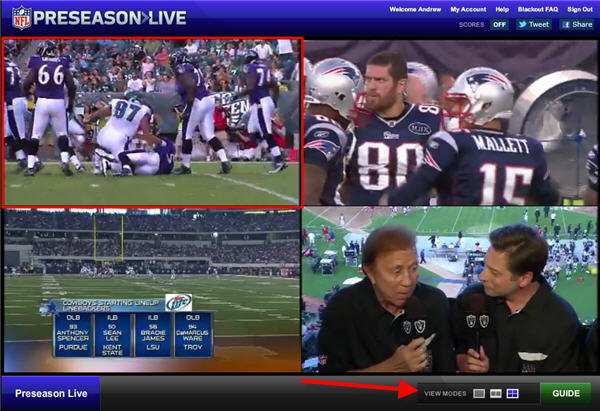 You can choose to display stats, chat, or scoring summary on the right pane by hovering your mouse over the screen and choosing an option button.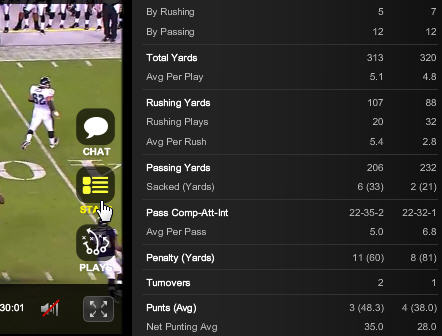 You'll also get some DVR style controls when you hover the mouse over the screen.

The picture quality has been excellent in our experience thus far. I was watching one game on Standard definition on my TV and another on my laptop w/ Preseason Live and the Preseason Live game was much better quality. I did experience brief drops in bandwidth a few times which cause the image to pixelate a bit, but it would quickly return to high quality in a few seconds.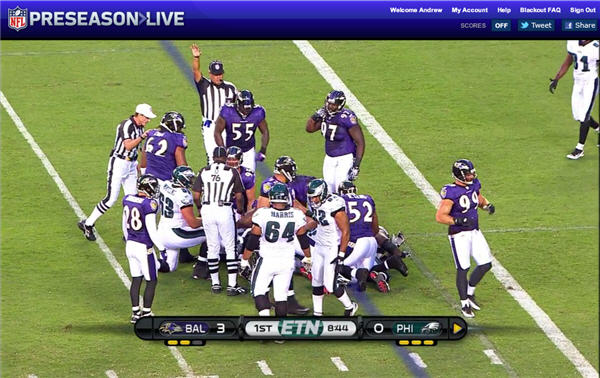 Who Should Buy This App?
Obviously, paying money to watch Preseason NFL games will not appeal to everyone. You might also want to keep in mind that most games are replayed on NFL Network. So, if you get NFL Network and have enough space on your DVR, you could watch them all that way too.
NFL fans whose favorite team is out of market and still want to watch their preseason games live.
Any NFL Fans who can't watch their favorite team live, but still want to watch the games.
Fantasy Football fanatics who want to scout rookies and other first year players.
Any NFL fan who simply can't get enough football.
How to Buy
You can subscribe to Preseason Live here at NFL.com.
You might want to sign up ASAP. They're currently offering Preseason Live at the "Back to Football Special" price of $19.99 (original price at $39.99). I can't say for sure if or when they revert to the original price, but if you are thinking of purchasing, you might want to keep this in mind. Want more information? Check out the Preseason Live FAQ at NFL.com.
UPDATE (8/19/2011) The NFL has actually lowered the price to $14.99
UPDATE (9/1/2011) The NFL has now lowered the price to $4.99 for the final week of the pre-season
Shameless Plug: If you look close enough at the NFL Preseason Live page, you'll notice they used a quote from our review last year in their promotion!




by