Watch NBA Finals Live Online, iPad, iPhone, and Android
The Miami Heat and San Antonio Spurs hit the floor for what promises to be an epic finale to an already epic NBA Finals. If you can't be in front of your TV to watch on ABC, here's how to watch online or on your iOS or Android devices.
ESPN3 has been rendered mostly useless by ESPN's decision last fall to use ESPN3 as mainly a place for "exclusive" content (which usually means sports or games not popular enough to be on ESPN or ESPN2). However, they have used ESPN3 as the online home of the NBA Finals which is broadcast on ABC.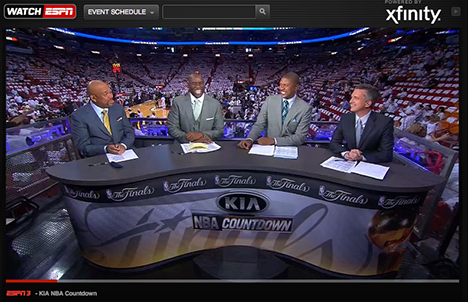 Game 7 tips off at 9:00PM ET and will be preceded by the KIA NBA Countdown show at 8:30 PM ET (also available on ESPN3.)
You'll still need to be able to get ESPN3 through your ISP to watch the game online and you'll need to actually have an TV subscription to ESPN through a participating TV provider to watch via mobile.
Links
Download the WatchESPN app for iPhone or iPad from the App Store, or Android version from Google Play or Amazon.com.




by