How to Watch or Listen to Wimbledon Live Online
Wimbledon begins Monday June 23rd and if you can't see it on TV, there are plenty of options for watching online. Rodger Federer, Novak Jokavich, Andy Murray, and Rafael Nadal are some of the biggest draws on the Men's side, while Maria Sharapova and Serena Williams are among the favorites in the Women's draw.
WatchESPN / ESPN3
WatchESPN/ESPN3.com will have live online coverage of Wimbledon beginning on June 23rd and running all the way through the Gentleman's final. We always like to note that most, but not all ISPs carry ESPN3.com.
If you are fortunate enough to be a cable subscriber with AT&T U-Verse, Bright House Networks, Charter, Comcast Xfinity, Cox, Midcontinent, Optimum, Time Warner, and Verizon FIOS, you'll be able to access live Wimbledon matches with the WatchESPN mobile app for iPhone, iPad, or Android. WatchESPN is also available on the XBox 360 and Apple TV, and recently support has been added for Chromecast.
YouTube
The Wimbledon YouTube channel will be live streaming matches as well as providing interviews, press conferences, and behind the scenes goodies. This was announced on YouTube's Official blog, but does not specify how much of the tournament will be streamed live.
Watch Wimbledon on YouTube (You should see a "Live Now" link on the page when live coverage is available)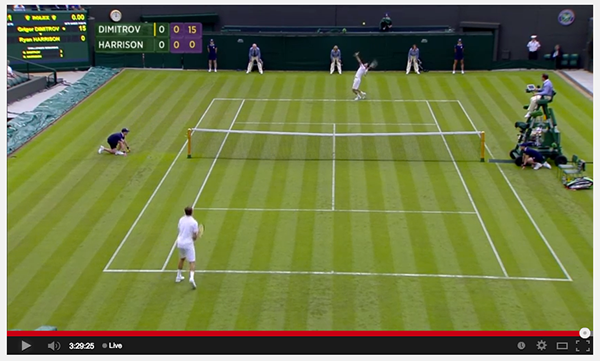 Wimbledon.com
Live@ from Wimbledon.com also has live video and audio. Up to 5 hours of live video coverage each day and full day audio coverage each day of the tournament.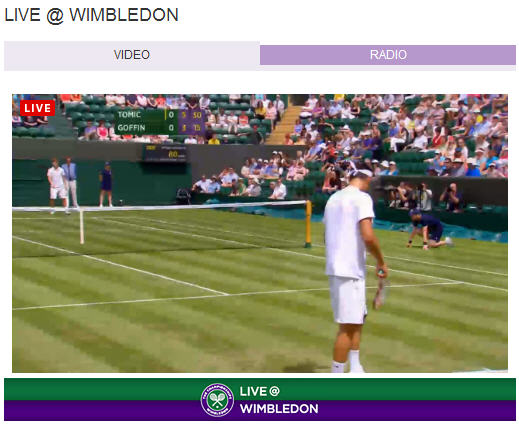 Radio Wimbledon
You'll will get ball-by-ball commentary from matches on Centre and Number 1 courts. Radio Wimbledon will be available every day of the Championship from 9am – 10pm Wimbledon local time.
Listen to Radio Wimbledon Online
If you are an iPad or iPhone owner you can also get Radio Wimbledon through the free Wimbledon iPhone app.
Television Coverage
In the U.S., every match will air on TV on the ESPN family of networks. Don't have ESPN? ABC will have tape delayed coverage of the singles finals on July 5th & 6th.




by