Watch Every NCAA Tournament Game Live on iPad and iPhone with the March Madness on Demand App
For years the NCAA & CBS have been providing fans every game in the NCAA Men's Basketball Tournament live online. This season you can also watch for free on your iPad, iPhone, or iPod Touch with the March Madness On Demand App.  This may could be a godsend if your company blocks streaming video or otherwise prevents you from peaking in on the early tournament games.
Note: We're posting this a week before the tournament begins. The teams and brackets aren't set, thus some of the features are still incomplete and we can expect an update to roll out early next week. We'll be updating this post after the updates.
Update: We got the update today (3/15/2011)
This years edition of March Madness will be the first with 68 teams instead of 64. Four additional teams will play on Tuesday and Wednesday evening with the real "Madness" kicking off at noon ET on Thursday. In addition to watching the game, you'll get all the other necessities of a fan during March Madness, like brackets, scores and schedules, and even a way to share you thoughts and opinions easily via social media.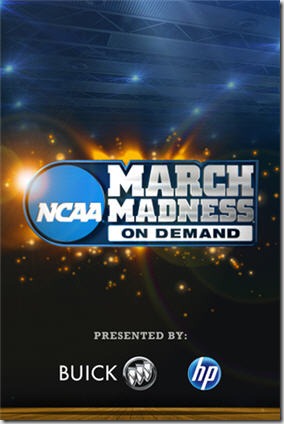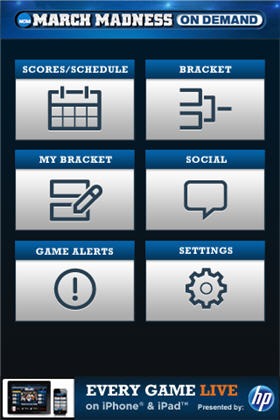 Game Alerts
With game alerts, you can choose to be notified of potential upsets, games going into OT, and even close games within 5 minutes.  This promises to be a pretty cool feature. Our hope is you'll be given an option to pop over to watch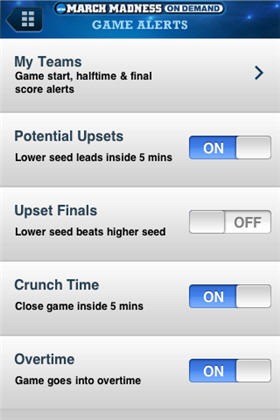 Another nice feature is the ability to enter your zip code and find your TV provider. This promises to be very helpful with games being broadcast on 4 separate channels this year, and some of them being lesser known stations like TruTV.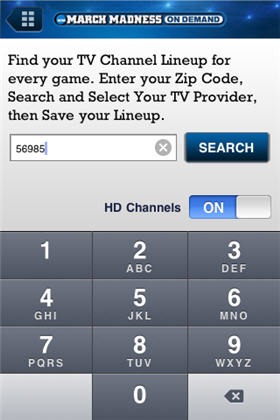 You also have the option of entering your own bracket. (This is one of the features that's obviously not fully functional as of this post since the brackets aren't set yet.)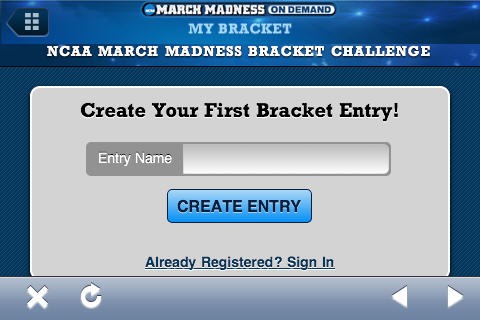 Update (3.15.2011): After the update, we were required to provide name and email to sign in.
When the game starts, click on it to begin watching. We found the quality to be generally quite good on our iPod Touch over WiFi.
It did take about 20 seconds or more to load the video stream, which means if that is the norm, it won't be very conducive to jumping back and forth between games.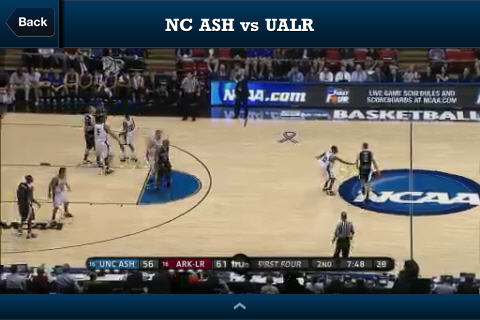 We also got a "close game" notification update during the UNC-Ashville vs Arkansas Little Rock game, but we got the notice that the score was 70-65 when it was 72-72 with 10 seconds left. So far, that's certainly not as timely as I would have hoped.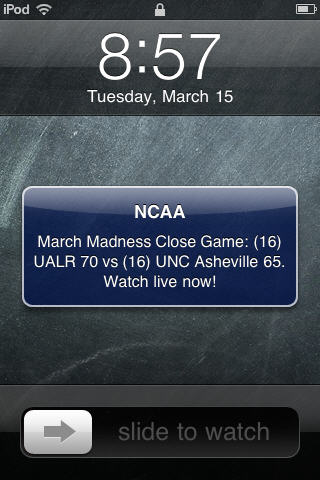 For new iPad owners, what better way to break it in your new device than by streaming live NCAA Tournament basketball games. It's a bummer for Android owners, but there will be no March Madness Android app this year.
Download from iTunes
iPad:
NCAA® March Madness® On Demand – NCAA Digital
iPhone / iPod Touch:
NCAA® March Madness® On Demand – NCAA Digital




by