Review: Listen to Every NFL Game Online with Audio Pass
Do you live outside the broadcast region of your favorite NFL team and don't  want to spring for Direct TV and a NFL Sunday Ticket package? Perhaps you just prefer the old school simplicity of listening the the radio feed over watching on TV. Either way, NFL.com gives you the option to listen to every NFL game live (or on demand) with Audio Pass.
Audio Pass is available through NFL.com and give you full access to the live radio call of every NFL game by every NFL team. You can get a full season subscription for $39.99 or a monthly pass for $9.99. (Note: In past years, the NFL has reduced the price at a certain point in the season, but I can't be sure they will do it again this year.)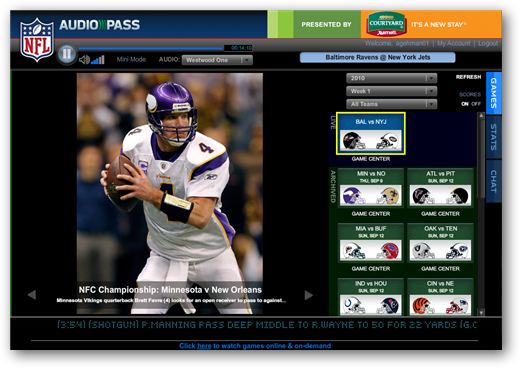 Once you log in with your username and password, (you'll need to choose one when you sign up) just find a game to listen to and click to play.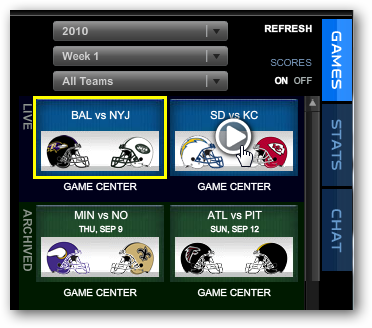 You have the option of listening to either team's broadcast, and in some cases, like Monday Night Football games, you can listen to Westwood One or Univision (Spanish).
While Audio Pass should make for an ideal companion to watching TV broadcasts, I've found the audio broadcast from Audio Pass to be off by at least 5 seconds or so from the actual TV telecast, and thus it doesn't really work for that purpose That is a real shame because this could be a great option for not only listening to your favorite teams broadcast, you could also use it in games when you don't care for the TV announcers.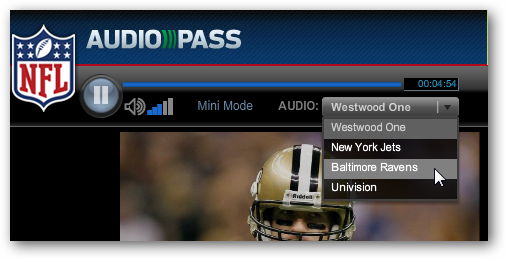 There isn't a whole lot to the web app itself. You can access lives stats for either team right from the Audio Pass screen. There is also a Chat option if you wish to interact with other fans listening to the game. The Game Center option takes you to NFL.com's Game Center page in a new browser window.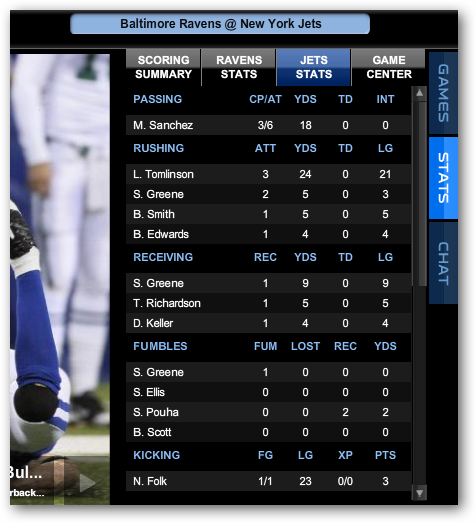 Using the dropdown options, you can search for games by team…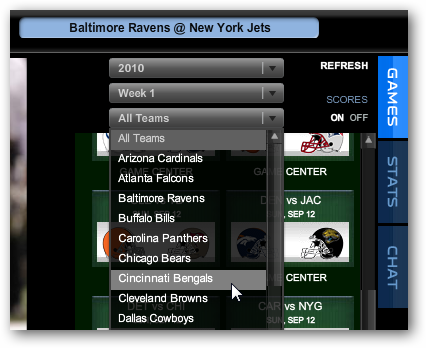 Or by week of the season. You can even access game from the 2009 season.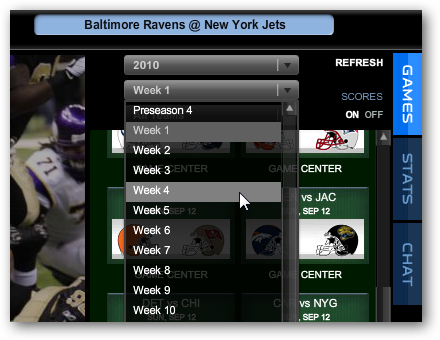 Overview
If you enjoy  (or at least don't mind) not having a picture, Audio Pass is a nice option for fans outside of their favorite franchises' broadcast area. As previously mentioned it failed in my experiments at working as a companion to the telecast as it doesn't sync up well enough with TV. Audio Pass is $39.99 for the entire season, but you can get a discount if you also purchase the NFL Game Rewind package. ($69.99 for NFL Game Rewind and Audio Pass for the entire season)
To get all the live NFL radio broadcasts online for yourself, check out Audio Pass from NFL.com.




by