Listen to Every NFL Game Live Online with NFL Audio Pass
Are you looking for a way to listen online to the radio broadcast of every NFL regular season game? You'll want to check out NFL Audio Pass. (UPDATE: See NFL Game Pass) 
UPDATE (August 2015): NFL Audio Pass is now part of the NFL Game Pass Domestic Package. You can order or get more info at NFL.com/gamepass. NFL Audio Pass has been discontinued as a stand-alone product.
Audio Pass is no longer available. Watch HD replays of every game this season on-demand or to listen live to every game with @NFLGamePass!

— NFL Audio Pass (@NFLAudioPass) August 13, 2015
NFL Audio Pass is available from NFL.com for $29.99 for the entire season, or $9.99 per month. There is also an option to listen to only your favorite team for $27.99 for the season. One of the great feature of NFL Audio Pass is the ability to listen to either team's radio broadcast, and in some cases, even a Spanish language feed.  There are no blackout restrictions, so you don't have to worry about missing any games.
About NFL Audio Pass
The interface has a slick interface and integration with NFL.com Game Center. You'll get all the features of NFL Game Center like stats, play-by-play analysis, editorial content, and more, all while listening to your preferred audio stream with your NFL Audio Pass subscription. If you've got an iPad you can enjoy your NFL Audio Pass subscription on the go by logging in with your account credentials. (Note: It's also supposed to be coming to iPhone but I haven't seen a way to purchase it through the app or log in to sync the purchase)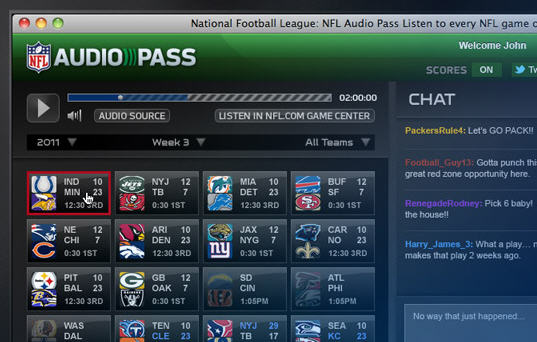 I love to listen to my favorite local announcers instead of the network teams, but one problem I found is that the video from the TV doesn't sync with the audio stream from NFL Audio Pass. It's not exactly an uncommon problem, though. You may also have had similar results if you've ever tried the same thing with terrestrial radio.
Overview
I've subscribed to the NFL Audio Pass in the past, but decided not to subscribe this season mainly because it doesn't sync well with the TV video, and I can listen to games with the NFL Moble app. So, if you have NFL Mobile through Verizon on your iPhone or Android, you probably don't really need this product to listen to the games. Unless, of course, you spend your Sunday at a computer where you don't have cell or WiFi coverage.
NFL Audio Pass, like all of the other NFL Online products we've tried, is excellent. The audio quality is always clear and you can listen to games on demand if you missed them the first time or just want to hear how the local radio team called the game. The UI and functionality is well done and very reliable.
Other Notable Info
Something else we should note is the the Audio Pass subscription is only for the NFL regular season. The NFL has a separate post-season subscription that includes all playoff games and the Super Bowl.
How to Order




by