Watch Live NBA, MLB, College Football and Basketball Online with ESPN3
So, you want to watch sports online? ESPN3 brings an unmatched selection of top notch live sporting events to your laptop or PC.
So, what exactly is this ESPN3? In a nutshell, it's an ESPN website that shows live (and on-demand)  broadcasts of sporting events from around the world.
What kinds of Sporting events do they show?
The biggest sports (for Americans) on ESPN3 are NBA, MLB, and College Football & Basketball. They also bring you plenty of Soccer, Tennis, Golf, along with occasional Boxing, Horse Racing, and various other sports.
Are Some Games Blacked Out?
Yes. When a network (like ABC, or regional sports station) has purchased the exclusive broadcast rights in your area, these games will be blacked out. For example if you live in central Ohio the Ohio St game is broadcast on your local ABC affiliate, it likely will be blacked out on ESPN3.
Can Everyone get access to ESPN3.
This is a big bummer, but no. ESPN3 has decided to take a "unique" (a polite term for it) approach with its business model. It tries to be more like a cable TV network than a traditional website. ISPs have to pay a fee to ESPN3 to get access to the site, much like cable companies must pay a fee to carry channels like ESPN, NFL Network, etc. Most of the "Big Boys" like Verizon, Comcast, AT&T have paid this fee and their subscribers get access. Time Warner just recently added ESPN3, but only if you have both Internet and Cable with Time Warner.
Don't know if your ISP carries ESPN3? Here he entire ESPN3 Affiliate List.
Are Sporting Events Available on Demand?
Yes, for varying lengths of time. NBA games are typically available only for about 24 hours. However, many other events are available for up to a month.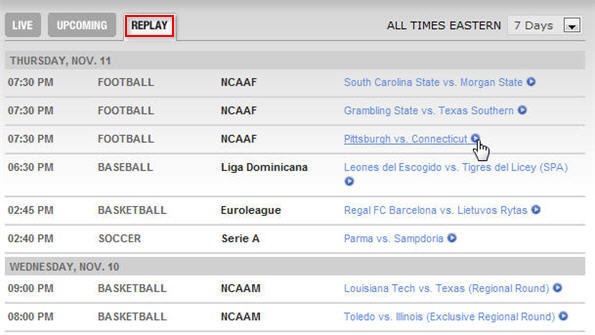 So how do I use it?
Simple. Go to espn.go.com/espn3. Here you'll find a list of Live (current games at the moment), Upcoming, and Replay (On Demand). Find an event to watch, and click it to watch. Click the tabs at the top to view the Upcoming schedule or available games for Replay.
What is the Viewing Experience Like?
Much of that will depend on your bandwidth. Our experience is has generally been very good, but we've seen blurring at times when the bandwidth drops.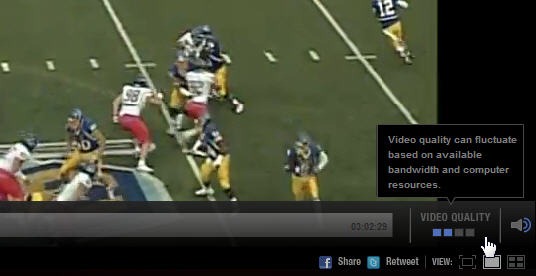 You can also watch up to four events at one time. To do so, select the Mosaic view at the low left of the Viewer.

Next, click on a box in one of the four quadrants, and then select a game to watch. Repeat for up to 4 events.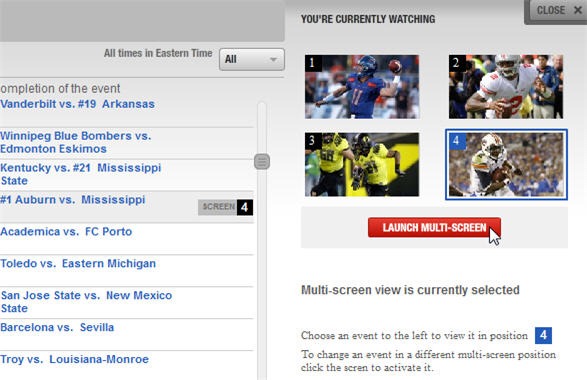 When watching multiple games, click on a video box (you'll see the light blue box appear around that game) to switch the audio feed to that game.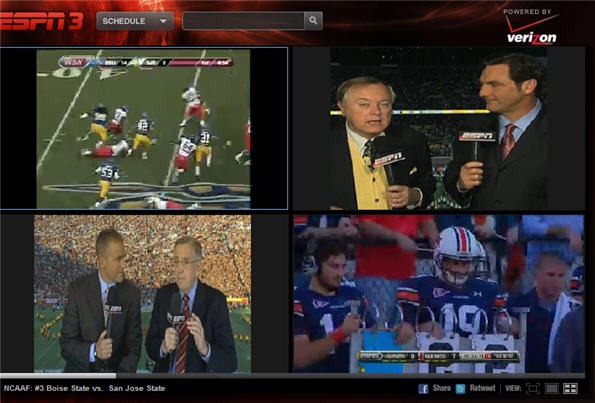 You can also do Picture in Picture (PIP). Hover over the screen, select Add PIP, then choose another game.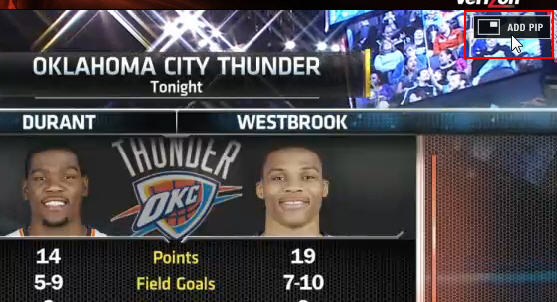 From the PIP window, you can easily switch games between the main screen and the picture in picture by choosing Swap Videos. You can even drag the PIP window to another area of the screen. Click on the main picture or the PIP window to switch which game gives you the audio.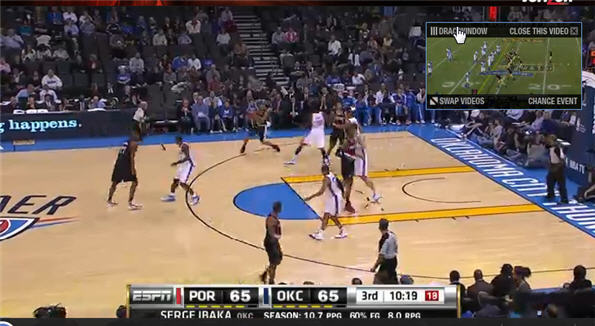 Watching NBA with ESPN3
ESPN3 will bring you all the same great NBA action that you get every week on ESPN, which is normally 2 games on both Wednesday and Friday nights.
Check out all the upcoming NBA and College Basketball games available on ESPN3.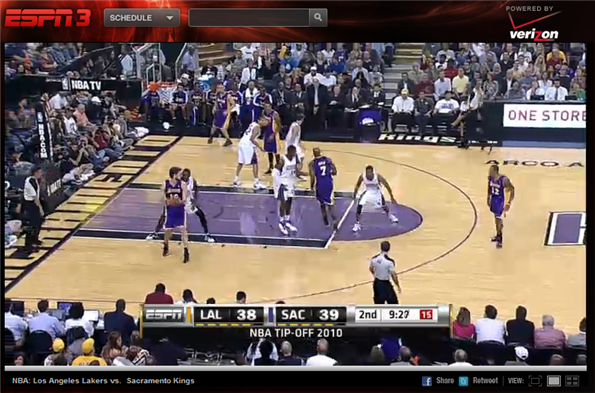 Watching College Basketball on ESPN3
Since ESPN is pretty much the home of College Basketball, you'll get tons of great College Basketball as the season starts to heat up. That is, of course, until we reach to NCAA tournament, which is the exclusive right of CBS. (But don't worry, that's available online too!)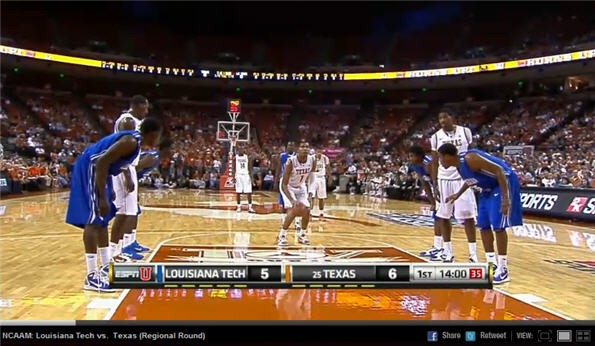 Watching College Football on ESPN3
ESPN3 basically gives you any college football game being broadcast around the country by ESPN or ABC, with the notable exception of any games that fall within the blackout restrictions. This includes some Tuesday, Thursday, and Friday Night games. In other words, you get a lot of great college football. Of course, not all of them, such as SEC games on CBS, and Notre Dame games on NBC.
You can check out the upcoming listings for College Football and CFL Football on ESPN3.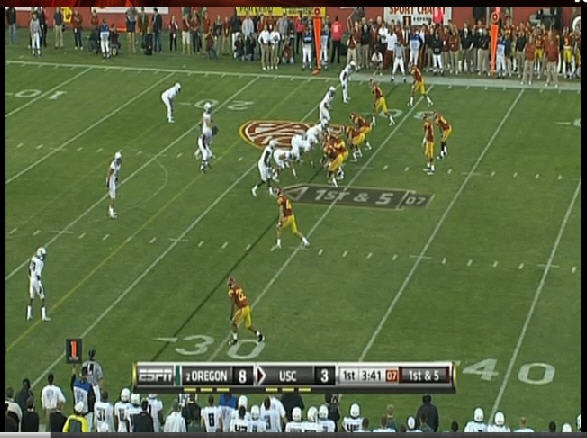 Baseball and other Sports
You'll get the typical ESPN MLB games, as well as College Baseball. Plus, if you are a real hard baseball fan, you can even get baseball from other countries during the MLB's off season, such as Dominican League games.
You'll also get loads of Soccer from various International leagues, some Golf, Boxing, Canadian and Australian Football, and even sports like volleyball and rugby.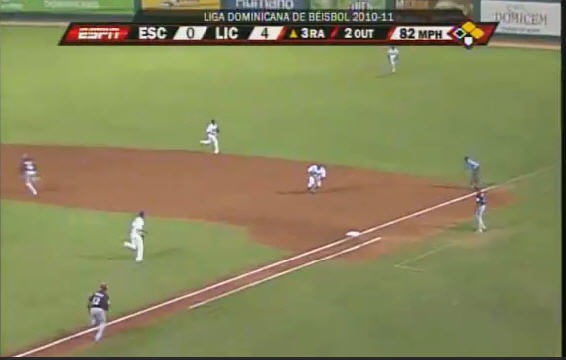 Ready to watch some sports?! Check out ESPN3.
Overview
Not only does it give you additional games that you normally wouldn't see in your TV market, but it brings lots of great sporting events to those who don't have cable or satellite. This season we've enjoyed getting to watch top ranked teams like Oregon and Boise State that aren't often available in our viewing area.  And, there certainly is no shortage of available sporting events. Regardless of the day of the week, you are sure to find something to watch. Although we don't really agree with the business model that will leave potential viewers on some ISPs out in the cold, we think ESPN3 is a great online alternative for fans to watch live sports.




by