MLB.tv Review: Watch Baseball Live Online
Are you considering buying MLB.tv this year to watch Major League Baseball online. Let us give you the ins and out of MLB.tv before deciding on whether or not to make a purchase.
Note: This review is based mainly on MLB.tv for your computer. You can sign up for MLB.tv here, or find the link at the end of the post in the MLB.tv Resources list.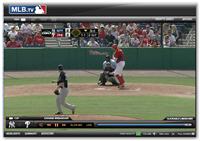 MLB is giving subscribers more incentive to purchase the Premium package over the Standard package. Premium subscribers will be able to watch on their iPad, iPhone, iPod Touch, and supported Android phones for no extra charge. Also, ONLY Premium subscribers will be able to use their subscription with TV-connected devices like Xbox 360, PS3, Apple TV, WD TV, Popbox, Roku, Boxee, and certain devices from Panasonic, LG, and Samsung.
One of the new features is a Clickable Linescore that allows you to instantly jump to a particular half-inning, or to a specific player's at-bat. There's also a Pitch-by-Pitch widget that is essentially a Pitch Tracker that includes location, pitch type, and speed.  (Note: The Pitch-by-Pitch Widget has not yet been enabled for Spring Training. )
Subscriptions
The Premium package will run you $129.99 and the standard option goes for $109.99. With Premium, you'll get access to MLB At Bat app for no extra cost, access to both home and away live feeds, and the ability to watch on mobile and TV connected devices.
If you don't want to commit to an entire season right off the bat, or don't want to pay all at once, you can choose a monthly option. $24.99 for Premium or $19.99 for Standard. With either package it's important to know that each package is automatically renewed by default. If you don't cancel, you will keep getting charged each month. In the case of the yearly subscription, it will automatically renew your subscription in late February or early March of next year. MLB does send out a reminder email several weeks before the automatic upgrade, so you have time to cancel your subscription the following spring if you choose to do so.
System Requirements
The system requirements change from year to year, but you can see the latest MLB.tv technical requirements here.
NexDef Plug-in
For some of the features in MLB.tv like HD quality picture and DVR controls, you'll need to download the NexDef plugin. Typically, the media player will remind you after you log in and start watching if your don't have it installed, or if you try to access a feature that requires the plug-in. You can download the plug-in when prompted by the viewer, or get it here in the MLB.tv download center.
How to Watch
Start with the MLB.com Media Center to find the current day's games. If you aren't already logged in with your MLB.com account, you'll need to do so by selecting "My MLB.com" at the top right side of the screen.
The icons next to the game will give you the current status. "L" means the game is live now, "A" indicates an available archived game, and "S" means the game will soon be available in the Archive. Choose an available broadcast under your subscription plan to open the media player and begin to watch.
Note: The image below is from Spring Training, which is why many of the games aren't available.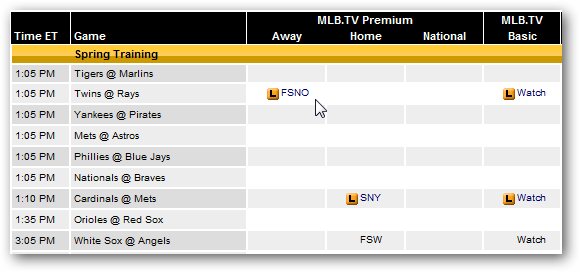 If you click on a game that is blacked out in your area, you'll presented with an opportunity to listen to the game instead. With either MLB.tv subscription, you'll also be able to listen to every game with Gameday Audio.

The MLB.tv video player pops up in a 800 x 600 window. You can't customize the size of the player by clicking and draggin the corner of the window, but you can choose to display the player in full screen mode or in "Mini mode," which displays the game in a window about 400 x 250 pixels in size.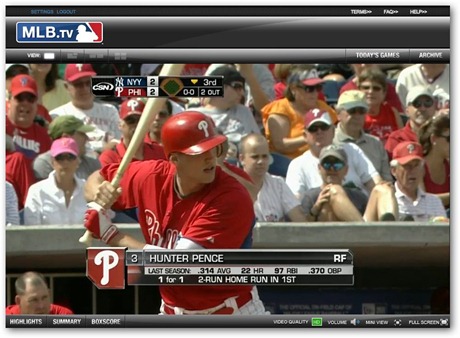 Features
Multi-view options
The multi-game viewing options include Mosaic view (4 games at once), Picture in Picture, and Dual view. Access these views at the top left. Watching multiple games at once is now available in both Premium and standard packages.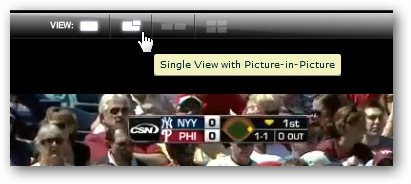 To choose the games to view on the extra screens, drag and drop a game from either Today's Games or the Archive. Click the button at the to right to view the schedules.
When in multi-view, the yellow outline around the screen indicates the current audio stream.  Simply click on the picture of another game to switch to that audio stream.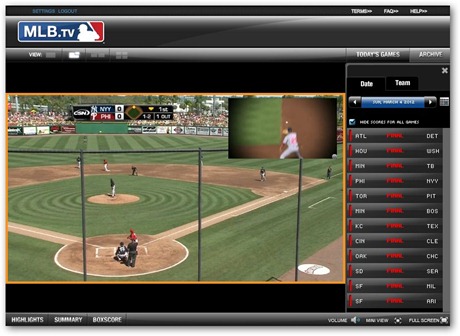 Highlights, Summary, and Box Score
At the lower left are a few additional features. Summary gives you a play-by-play, there is a box score pop up, and  during the regular season, you can also watch in-game highlights from the current game and around the league.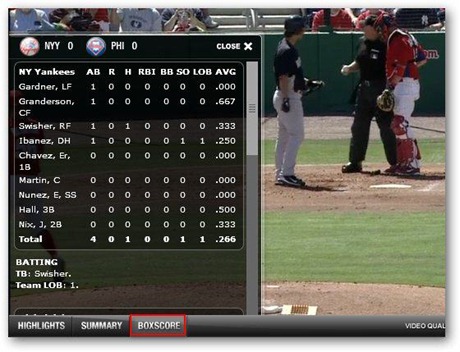 Clickable Linescore
The new Clickable Linescores feature looks like it will be pretty cool. The concept is that you can click on the inning to jump to that position in the video. Or, click on the player via the fly-out to the left and go directly to that players at bat. I've had mostly positive results, but so far the line scores are simply showing up as dashes so you can't actually see which innings had runs scored, etc. It's possible this part of the feature is not fully enabled for Spring Training. The jumping around to different player's at bats works well, but it is a little cumbersome to scroll back or forward several innings looking for a particular player.

Fantasy Tracker & Pitch-by-Pitch Widget
Fantasy player tracker is definitely a cool feature for fantasy baseball players. Add your fantasy rosters and receive on-deck notifications so you can click over and watch your players at-bats, or view them from a Picture-in-Picture window. This feature isn't enabled for Spring Training, but it's one I enjoyed last season.
Another announced feature is the Pitch-by-Pitch Widget. It's basically a pitch tracker overlay that includes location, type, and speed of every pitch. The feature isn't available yet for Spring Training.
Settings
These are found by clicking "settings" at the top left and there are a few worth noting. You can hide the game scores along the left side, which is especially helpful is watching archived games and you don't want to know who won. The other option is to have live games start from the beginning instead of jumping into the telecast mid-game. You can also disable the highlight bubbles that pop-up during games.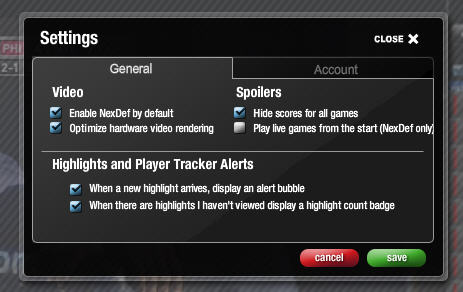 Blackout Rules
Now we enter the dark and evil side of MLB.tv. If you take away just one thing from my review, make it this: Before you drop your cash on MLB.tv, you've got to be sure you're ok with the godforsaken blackout rules. Yes, the blackout rules are completely absurd and are most certainly not fan friendly. Just make sure you understand them going into your purchase.
There are both local and national blackouts. As for national blackouts, all games played on Saturday with a scheduled start time between 1:10 PM ET and 8:00 PM ET, and each Sunday with a scheduled start time after 5:00 PM ET, will be blacked out in the United States. This means all games during Fox's Saturday national broadcasts and ESPN Sunday night broadcast are blacked out. Yes, even the ones not being broadcast by Fox or ESPN.
Any team that MLB deems as "local" to your area, even if it's not really reasonable to call them local, will be blacked out. There is no shortage of examples posted on the web of fans being met with ridiculous blackout restrictions in certain areas.  That means all games, both home and away, are blacked out during the regular season. All Blue Jays games are blacked out for the entire country of Canada. However, there are no blackout restrictions outside of the U.S. and Canada. I strongly suggest that even if you think you know which teams are blacked out in your area, double check to make sure. Go to this page, look for the part that says "To find out which Club's live games are blacked out in your current location, click here: " Click the green button and a pop up window will display the blacked out teams.

MLB claims that blackouts are determined by multiple factors such as IP address and GPS software on your phone (when used with MLB at Bat app). The point is, you can't circumvent the blackout restrictions by having your uncle in Alaska sign you up.
On the plus side, if you travel, your restrictions won't travel with you. For example, if you live in Boston, you are normally blacked out from watching the Red Sox. If you travel to Chicago, you should be able to watch the Red Sox while in Chicago. (Assuming, of course, they aren't playing the White Sox or Cubs)
Still confused? You can read the fine print / leagalese here at MLB.com. There's also a link in the "Resources" section at the end of this post.
Archived Games
The best thing about the archived games is that they are not subject to blackouts. Games are available in the MLB Media Center about 90 minutes after the game. They can also be accessed from inside the MLB.tv player. As I mentioned earlier, by default, the scores are on, so you may want to turn them off in the settings at the top left to prevent spoilers.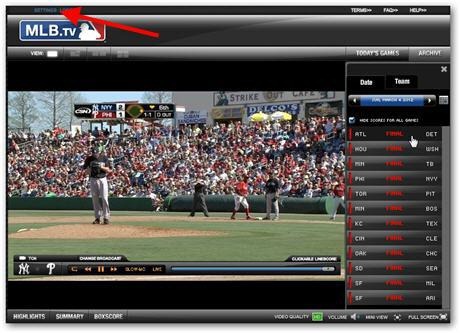 Archived games could be the difference maker for some since the aren't subject to blackouts. For instance, if you are working 2nd shift, you'll probably miss most of the live telecasts anyway, so why Archived games might be all you need. (Note: Archived games aren't available on mobile devices like iPhone & iPad)
UPDATE: Archived games are now available on the iPad. 
TV Connected Devices
If you plan on watching mainly (or exclusively) on one of the TV connected devices, you'll want to check the MLB.tv Support Forums first. (You will need a MLB.com username and password to access the forums) These devices do have a history of issues, especially early in the regular season, that tend to take some time to get worked out.
Be aware that many of these devices either don't offer Spring Training games at all, or only offer them beginning in mid to late March.
I've used MLB.tv on both the Apple TV and Roku with great success. I've had limited exposure with the XBox 360 which was also really good.
Other Things to Keep in Mind
MLB.tv is for Spring Training and Regular Season only. All Post-Season games are unavailable and that includes any potential tie-breaker play-in games. MLB does have a companion product called PostSeason.tv that offers limited access to playoff games.
MLB.tv has traditionally lowered it's price at certain points during the season. For instance, last year the standard MLB.tv subscription went from $99 to $79 on June 1st. I can't guarantee that they'll continue, but it's something to keep in mind.
UPDATE: For 2014, MLB.tv is advertising access to World Series and All-Star game access via Fox.
Overview
It's a shame that such a great product must be marred by MLB's ridiculous insistence on clinging to their arcane blackout rules. I've been purchasing MLB.tv for the past few years and the picture quality, features, and overall experience (Blackouts aside) has been great. If you understand the blackout rules, and you are ok with them, then MLB.tv is a home run. If you mainly want to watch locals teams, you are probably going to be disappointed. Keep in mind that both archived games and audio are not subject to blackout. If you are ready to buy MLB.tv, you can do so here at MLB.com.
MLB.tv Resource Links
Click here to Sign up for MLB.tv
Check to see which teams are blacked out in your area
Download Adobe Flash or NextDef Plug-in




by