MLB.TV Premium Subscription Includes Free MLB At Bat App and Xbox 360 Access
MLB.TV is back for 2012 with a few new and exciting features. Premium subscribers will receive the MLB At Bat app free for iPhone, iPad, iPod Touch, and most Android phones. Plus, for the first time, MLB.tv will now be available on Xbox 360 with a Premium subscription.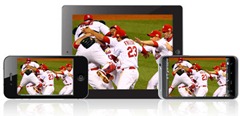 Subscriptions fees have risen a bit from last season. The Standard subscription is $109.99 / year while Premium costs $124.99. If you are a 2011 MLB.TV subscriber who hasn't cancelled his subscription, you'll get a discounted price for automatic renewal. Standard subscribers will pay last years price of $99 / year ($10 off), while Premium subscribers will pay $119.99 ($5 off). The auto-renewal will happen on or about February 29th.
If you were a standard subscriber and wish to upgrade this year to Premium, you can upgrade now and still get the automatic renewal savings. Log into your MLB.com account and look for Audio/Video subscriptions in the settings along the left side of your MY MLB.com page.
Find the Upgrade to MLB.TV Premium button at the bottom right.

One small negative to note is that it appears that portability to connected devices (PS3, Boxee, Roku, etc.) is available only to MLB.TV Premium customers and 2011 MLB.TV customers with automatic renewal. In other words, it appears that new standard subscribers won't get access through these additional platforms.
Other returning features include home and away broadcasts (Premium only), HD quality, in game highlights and stats, DVR controls, full game archives, and the ability to watch up to 4 games at one time.
We'll be posting our full review of MLB.tv 2012 during early to mid March, so be sure to check back if you are sitting on the fence on whether or not to subscribe. Or, you can check out our MLB.tv review from last season.
Spring Training games begin March 3rd, so sign up soon if you don't want to miss any action. Once again, all available Spring Training games will be televised without blackout restrictions. As usual, all regular season games are subject to blackout. (Yes, blackouts totally suck, but it is what it is.) Before you subscribe, please be familiar with the blackout rules because they can be rather absurd in some areas. For example, all Blue Jays games are blacked out for the entire country of Canada.
To sign up for MLB.tv or to find out more information, check out the MLB.tv page on MLB.com.




by