Watch NBA on Christmas Day Games Live Online
The NBA returns on Christmas Day with a gift of 5 NBA games for basketball fans. 3 of the 5 NBA Christmas Games will be available to watch live online, so if you find yourself away from the TV you can still catch the action online.
The Knicks and Celtics airs live on TNT and will be available online via TNT Overtime Extra, while the Magic vs Thunder and Clippers vs. Warriors will air on ESPN and be available online through ESPN3.
The Miami Heat and Dallas Mavericks (2:30 PM ET) and the LA Lakers vs. Chicago Bulls (5:00PM ET) will air on ABC and are not available online.
Celtics vs Knicks (12 Noon ET)
TNT returns Overtime Extra for the 2011-2012 season. Intended to be a supplement to the TV broadcast, Overtime Extra delivers 4 different camera angles, picture –in-picture, and DVR playback along with the TNT broadcast commentary.
Watch the Boston Celtics vs New York Knicks Live Online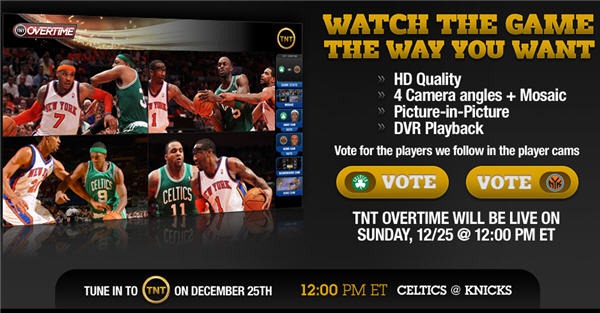 Orlando at Oklahoma City (8:00 PM ET)
Dwight Howard is still a member of the Magic (as of 12/22/2011), and he'll go head-to-head with Kevin Durant and the Oklahoma City Thunder Christmas Night at 8:00PM ET.
Watch Orlando Magic vs Oklahoma City Thunder online at ESPN3
LA Clippers at Golden State (10:30 PM ET)
The LA Clippers promise to be one of the more exciting teams in the NBA with the addition of Chris Paul to a lineup that already featured the highlight heavy play of Blake Griffin. Tip-off time is 10:30 PM ET / 7:30 PM PT.
Watch Los Angeles Clippers vs. Golden State Warriors online at ESPN3




by