The British Open Championship Golf App for iPad, iPhone, and Android
The Open Championship, or the British Open as it's more commonly called in the United States, tees off from Muirfield on July 18th and runs through the 21st. Get all the action on the go with the Open Championship App for you iOS or Android device.

All versions of the app include an interactive course guide, player profiles, live radio and video highlights, and live scoring. The glaring difference between the iOS and Android versions of the app is that sadly, live video isn't available thru the Android version. However, if you have access to the WatchESPN App through your TV provider, you'll still be able to watch.
The iOS versions of the app provide for live coverage from holes 8,9, & 10, and @TheOpen Live, which if memory serves from past years, doesn't really show any live golf… just commentary, interviews, and highlights.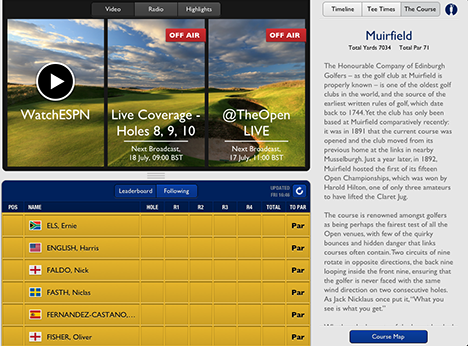 Overview
Visually the app looks great, but last year we had some issues with the Open Championship app. The Live video wasn't really working and the live scoreboard only showed the scores of players who had completed there round, not those golfers still out on the course. We won't know for sure until the tournament begins, but hopefully the developers have cleaned up the issues for the 2013 edition.
Cost: Free
Links
iPhone: The Open Championship 2013 – The R&A
iPad: The Open Championship 2013 – The R&A
Android: The Open Championship from Google Play




by