Golf Channel 24/7 Live Streaming Comes to Golf Live Extra and NBC Sports Live Extra Mobile Apps
Some of you golf fans with Golf Channel subscriptions already had access to live streams of Golf Channel's PGA Tour event coverage, but now, those fans can watch the Golf Channel 24/7 on their iOS or Android devices (or online via computer browser).
The Golf Channel joins ESPN as the Sports networks that have brought the full TV Everywhere experience to computers, mobile phones, and tablets. This means viewers can also catch shows such as Morning Drive, Big Break, Feherty, The Golf Fix, and more.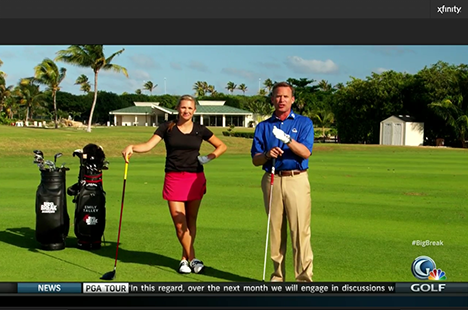 The big caveat always lies with the available TV providers who allow you to authenticate to access the content. So far, Cablevision, Comcast Xfinity, DISH, Mediacom, Suddenlink and Verizon FiOS (along with a host of smaller providers) are among the initial networks that have offered this service to customers.
It's clearly a good sign for fans for live streaming sports to mobile devices. One has to wonder if NBC Sports Network will follow before to long.
The Golf Channel Live stream can be accessed on mobile and tablet devices through either the NBC Sports Live Extra App, or the Golf Live Extra App (See download links below). You can view in the browser at stream.golfchannel.com
App Downloads
NBC Sports Live Extra
iPhone: NBC Sports Live Extra
iPad: NBC Sports Live Extra for iPad
Android: NBC Sports Live Extra from Google Play
Golf Live Extra
iPhone: Golf Live Extra – Golf Channel
iPad: Golf Live Extra – Golf Channel
Android: Golf Live Extra from Google Play




by