NBC Sports Live Extra App Brings Live Streaming Sports to iPad, iPhone, and Android
If the NBC Sports Live Extra app magically appeared on your mobile device recently and you don't remember downloading it, you aren't nuts. The NBCSports Live Extra App is the updated remnants of NBC Olympics Live Extra app. It's been rebranded with it's latest update. This new version of the app promises hundreds of live sporting events from the NBC family of networks. 
Like the NBC Olympics Live Extra app, much of the content is only going to be available to you if you are a subscriber to one of the participating TV providers and you'll be required you to authenticate before watching. According to Engadget, this content will include European PGA, LPGA, MLS, NHL, Notre Dame, PGA, Ryder Cup and other events. (You'll notice the NFL isn't mentioned)
UPDATE (9/23/2012): They don't really promote it, but it appears you can watch Sunday Night Football. It not directly within the app however, it kicks you over into the browser to watch at this URL. So, you can pull up the app, or just go directly to the source from your iPad browser.
I'm not authenticated and all I can see at the moment is Notre Dame stuff. Frankly, if NBC allows non-authenticated users to watch just the events it broadcasts on the "Big" NBC network, I'll be quite happy.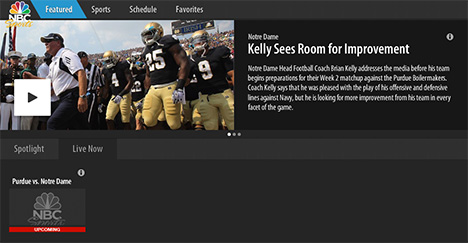 Download
iPad: NBC Sports Live Extra for iPad
iPhone: NBC Sports Live Extra
Android: NBC Sports Extra for Android




by