U.S. Open Golf Championship Mobile App for iPhone, iPad, and Android
The US Open returns to Merion Golf Club for 2013 and golf fans with iPhone, iPad, and Android devices can stay in the loop and even watch live coverage on the go with the US Open Golf Championship mobile app.
Among the features of the app is course maps and flyover videos, updated news, photos, notifications, real-time leader board, start times, player biographies, and live video coverage of the tournament. (Live video is available in the United States only.) A big addition this year is the release of an iPad version of the app.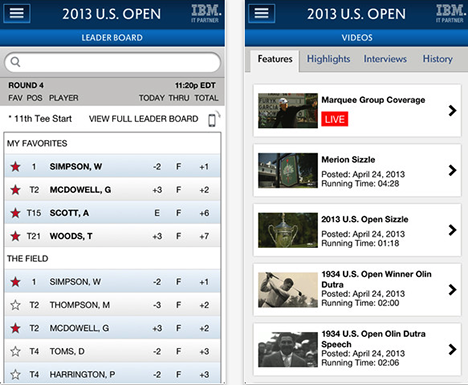 The live video of the tournament comes in the form of "marquee group" coverage. This is focused coverage on only certain groups as opposed to TV network coverage. Typically this coverage will include the top players in the field during the early rounds like Woods, Mickelson, McIlroy, etc.
The maps, flyovers, and course descriptions are especially nice and can give golf fans a real good feel for the layout of the course.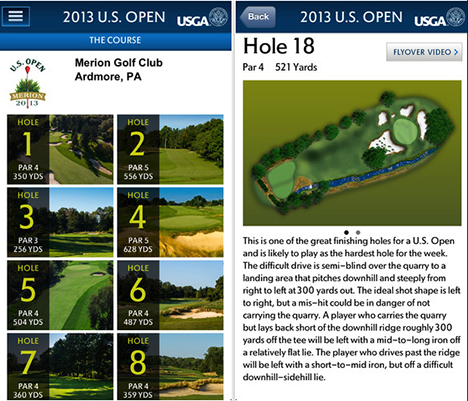 Overview
The US Open app has consistently delivered top quality mobile content over the past few years and 2013 appears to be no exception. Live video is always the killer feature of any sporting event mobile app and this app has consistently delivery quality live coverage. While we always contend that you can't truly tell how an app will perform until the actual event begins, so far the US Open app gives us no reason to suspect we won't be pleased.
Cost: Free.
Download
iPhone: Grab the 2013 U.S. Open Golf Championship – United States Golf AssociationApp from iTunes or the App Store.
iPad: 2013 U.S. Open Golf Championship for iPad – United States Golf Association
Android: Download US Open Championship App from Google Play.




by