Set the Philadelphia Eagles Fight Song as Ringtone or Alarm on Your Android Phone
Every Philadelphia Eagles fan knows the Eagles fight song, "Fly, Eagles, Fly." Have you ever wanted to set that song as either your ringtone or alarm? Here's how to do it.
What we will do is download the Eagles Fight Song on a PC, and then transfer the file to our Android phone.
Download the Audio File
First things, first. We need to get an audio file of the Eagles Fight Song. You can find a few versions of the song in mp3 format at philadelphia-eagles.net. To download the full version with lyrics in Windows, right click on link below and click "Save As."
Download Philadelphia Eagles Fight Song .mp3
TRANSFERRING THE FILE TO YOUR ANDROID PHONE
Connect your phone to your computer with the USB cable and turn on USB storage.
Next, we'll create some new folders on the SD card. Create a folder named media, then a sub-folder named audio, and then sub-folders named ringtones and alarms. We are on a Windows computer, so we used Windows Explorer to create the folder.
Next, copy the audio clip to both the alarms and ringtones directory. (If you only plan on using the clip for one of these tasks, you don't have to bother copying it to the other folder)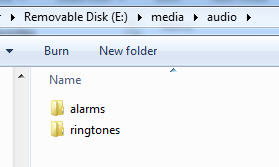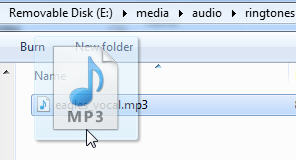 Now we are ready to set the alarm or ringtone, but first we want to turn off the USB storage.
SETTING THE ALARM
To set the Alarm, select the "Clock" icon. You can select every day, weekdays (M-F), or  create your own on time alarm time by choosing "Add alarm."  Next, set your alarm time and hit the "Set" button.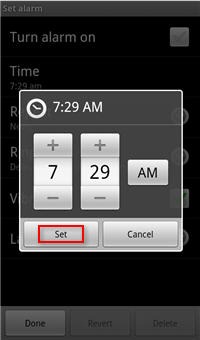 To change the alarm ringtone, select ringtone, find your Eagles Fight Song audio clip in the list, select it, then choose OK.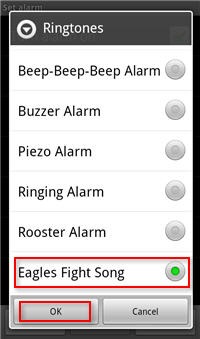 Setting the Ringtone
In the Settings of your Phone, select Sound, then Phone Ringtone. You should now find the Eagles Fight Song in the choices. Select it and tap OK.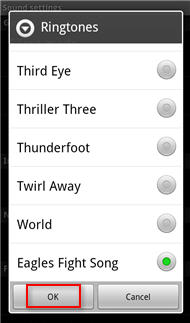 Naturally, you can do this with any of the audio clips accepted by Android such as .wav, .ogg, .mp3, .flac, & .mp4.




by