Need a Place to Watch the Game? Try Sports Bar Finder App for iPhone & Android
Looking for a watering hole the watch the big game? Check out the Sports Bar Finder from Direct TV. It uses the GPS in your phone to find sports bars that are closet to your current location.
This is a Direct TV app, so naturally, it displays only bars with Direct TV sports programming. This probably isn't a big issues since most any Sports bars are likely to have Direct TV anyway.
The app uses the GPS and pulls up sport bars in Map view or List view. Select the bar name in list view to get more information like phone number, etc.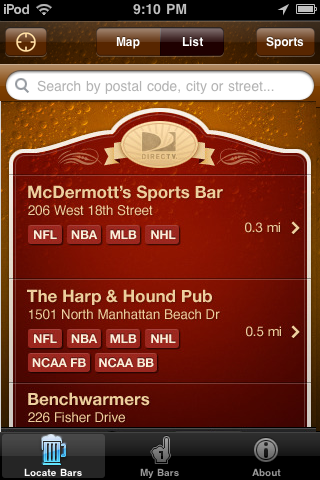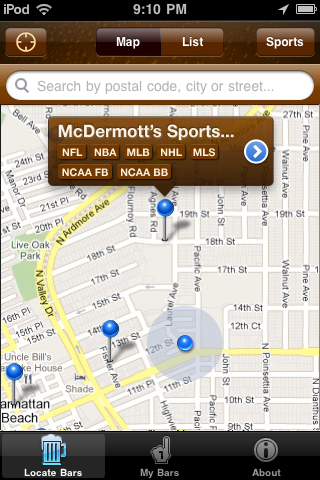 To search or filter by sport, select the Spots button and choose a sport (or sports league). You can choose one sport at a time to filter your search.
Overview
The iPhone version works fine and gets a solid thumbs up. With the Android version (1.0.0) however, the filters did not seem to work properly and the app doesn't release the GPS when closes and thus drains the battery. I'd assume these issue may be fixed with a future update, but that remains to be seen.  If you do download the app for Android, be sure to keep an eye on the this and kill that app manually if needed or it may drain your battery. Also, it might be nice to search for bars with multiple sports in a single filter.
Download Sports Bar Finder for iPhone or find it in the Android Market




by