Watch Hockey Online with NHL Gamecenter Live
Watch all your favorite NHL action live online with NHL Gamecenter Live. You get DVR controls like pause and live rewind, option to listen to the home or away announcers, and even the ability to watch archived games on demand. The current price for the full season $119, and you can choose to pay in installments.
It's advertised as "TV-quality," which you can assume is something less than HD. We were able to check it out briefly during an early season sneak preview and found it to be very watchable on your computer. It's very similar in quality to ESPN3.com broadcasts.
You can watch multiple games at once (up to 4 games) using the Mosaic view…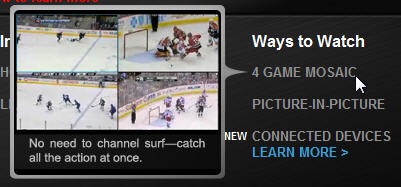 Or Picture in Picture.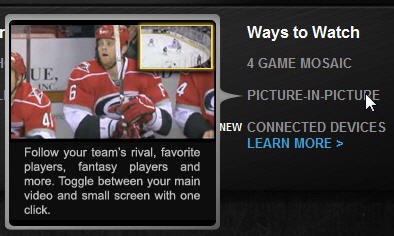 Blackouts
The big issue  is that blackout restriction apply. Any game that is available to watch on television in your local market, or nationally televised, are not available to watch live or within 48 hours of game completion. If, for example, you live in Pittsburgh, you aren't going to get Penguins games with NHL Gamecenter Live. If you are a Penguins fan who lives in California, you're in luck.
Check out the video promo below:
Check out NHL.com for more information or to sign up for NHL Gamecenter. Note: Available only in U.S. and Canada




by