Watching US Open Golf: Online Guide
The US Open Golf Championship gets underway this Thursday June 12th from Pinehurst Country Club in Pinehurst, NC. Here's you online viewer's guide to watching the tourney. 
WatchESPN
ESPN will be covering the most of the early rounds of the US Open on Thursday and Friday. Coverage begins at 9AM ET and runs until 3PM ET (where it jumps to NBC), hops to ESPN2 from 5-6PMET, and then back to ESPN from 6-7PM ET.
NBC Live Extra
NBC will have late afternoon (on the East coast) coverage of the US Open. The telecast will run from 3PM to 5PM before jumping back to ESPN. On the weekend, it's all NBC from Noon to the conclusion of coverage both Saturday and Sunday. Available both online and on mobile via apps.
NBC Live Extra | NBC Live Extra Apps
USOpen.com
The host website will have "Marquee Group" coverage on Thursday and Friday and "Exclusive hole" coverage of #9 and #18 on the Weekend. This is your best option if you are a cord-cutter.
Golf Live Extra
While they won't show you any live golf action, you will get loads of coverage from the Golf Channel. Like ESPN and NBC, you'll need to be valid participating subscriber through a TV partner.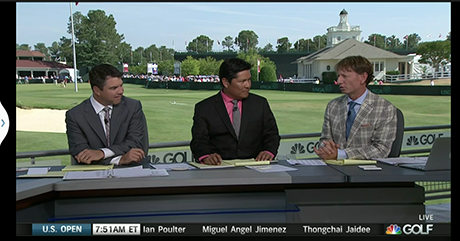 ESPN Radio
If you'd rather listen, ESPN Radio will have coverage from 10-4PM ET on Thursday and Friday and 2PM-8PM ET over the weekend.
Other Resources




by