Essential List of Super Bowl 48 Mobile & Tablet Apps
With Super Bowl 48 right around the corner, it's time to look at some of the mobile apps you'll want on your phone or tablet while preparing for the big game between the Denver Broncos and Seattle Seahawks. 
NFL Mobile

It starts of course, with the NFL Mobile app. The app has been updated to include a detailed event guide and as always will have the latest NFL news and updates. During the game you can get updated stats via the game center, watch highlights and even watch the commercials. If  you are a Verizon customer, you can watch a live stream of Super Bowl 48, but it'll cost you $5 / month to subscribe to the service.
Android | iOS | Windows | Blackberry
Super Bowl XLVIII Official Program
It's the NFL's Official "Interactive" game program. You get all the same content as the printed program enhanced for your tablet device. It's free to download and see a limited preview, but you'll need to pay $1.99 to get the full content of the program.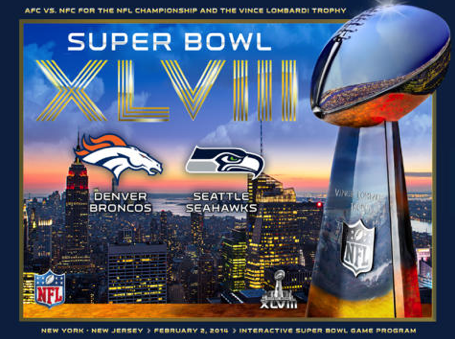 Denver Broncos Mobile

Naturally, fans of the Denver Broncos will want all the latest inside scoop and their favorite team.
Official app is available for iOS, Android, and Blackberry.
iPhone | iPad | Android | Blackberry
Seahawks Mobile

We can't forget about the 12th man! Get all the latest on the Seattle Seahawks and their quest for a first Super Bowl win in team history. Seahawks Mobile is available on iOS, Android, Windows, and Blackberry platforms.
Android | iOS | Windows | Blackberry
NFL Homegating
This official NFL app features recipes for your at-home tailgating or Super Bowl party. You can even send invitations to your party from within the app. [Ok, maybe this app isn't quite "essential," but I found it interesting enough to include in the list…]
 Fox Sports Go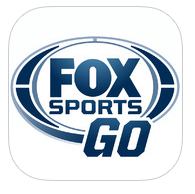 If you want to watch  Super Bowl 48 on your tablet, you'll need to download the Fox Sports to Go app. The live stream will (reportedly) be available from Noon ET to Midnight PT on Super Bowl Sunday so you can catch all the live action on you iPad.  The live stream will be free and no login is required to watch the Super Bowl.
NFL Game Rewind

If your team ends up winning Super Bowl 48 you may want to relive the key moments of the Super and the rest of the 2013 season by rewatching  the games. If so, you can subscribe to NFL Game Rewind and watch every game from 2013 (and several previous season) on you iPad or Tablet. There are a variety of subscription options, some only give you access in season, while some allow you to watch all off season. Be sure to review the NFL Game Rewind site for more information.




by