NFL Pro Bowl Will Live Stream Online and Mobile via NBC Sports Live Extra
If you just can't stand the thought of not watching NFL football this weekend, you do have an option… sort of… the NFL Pro Bowl. It's not exactly real competitive football by any stretch of the imagination, but it doesn't feature many NFL stars and it will live stream online via NBC Sports Live Extra. 
The game starts at 7:00 PM ET and for the first time ever, will not feature the AFC vs. the NFC. This year, teams were picked by honorary coaches Deion Sanders and Jerry Rice.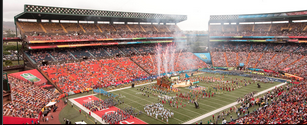 While I find the game tough (Ok, impossible) to watch, TV ratings suggest that there are plenty of folks out there who enjoy watching it. You can watch it live online at NBC Sports Live Extra or via the NBC Sports Live Extra mobile apps.




by