How to Watch Super Bowl 48 Live Online Or With Mobile Apps
So, you can't watch Super Bowl 48 on TV, but don't want to miss the Broncos and Seahawks fight over the Lombardi trophy? Well, again in 2014, the Super Bowl will be streamed live and will be available on your internet connected computer, iPad, or mobile phone via Verizon.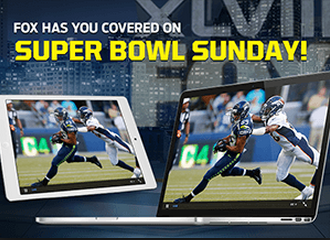 This year's big game will be broadcast by Fox and called by Joe Buck and Troy Aikman. Fox made live streams of their NFL Playoffs games available online, but only if you were a subscriber through certain TV providers. (NBC and CBS opened up their NFL Playoff streams to everyone for free). They've thankfully dropped the TV subscriber caveat for the Super Bowl.
According to The Verge, Fox will make it's live stream available without authentication from 12:00PM ET until 3:00AM ET. They're calling it a "free preview." Fox Sports will be offering both English and Spanish-language streaming of the entire Super Bowl. To watch on the iPad, you'll need to download the Fox Sports Go app.
If you're are a Verizon subscriber and want to watch on your phone, you'll need the NFL mobile app. You'll also need to shell out $5 / month for their streaming service which also includes full access to the NFL Network. m live games for $5 a month.
Links and Downloads




by