Watch AFC Championship: Denver vs New England Live Online
If you can't be on your couch on Sunday to watch this year's uber-anticipated AFC Championship game between the New England Patriots and Denver Broncos, you can still watch for free online or on your iPad or Android tablet device. 
This is the first time that the AFC Championship game will (legally) be streamed online. It's also free and available to everyone. To watch online, go to CBSSports.com/NFL and look for the "Watch Now" link or banner. You should also be able to access the stream directly at cbssports.com/nfl/video/afc-playoffs.
The game will begin at 3:00 PM ET on Sunday January 19th.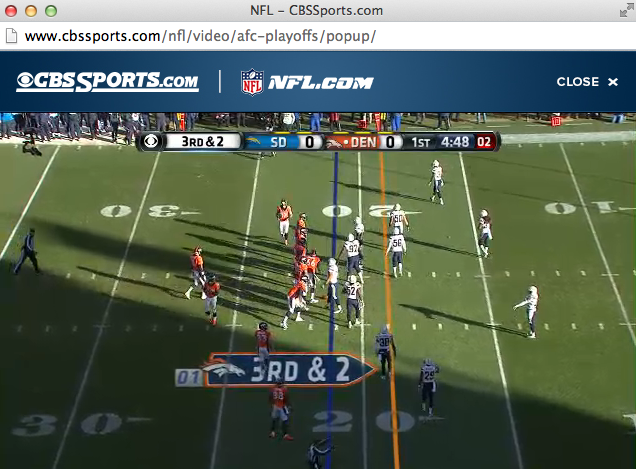 The CBS Sports online viewer has far fewer features than the NBC Sports version, but hey, at least you can watch the game live online, which has not been the case in previous years.
If you have the CBS Sports iPad app, look for the Watch Now link (I did not see it during the divisional playoffs) or just watch via the browser by following the links above.




by