Kansas Jayhawks Official Mobile Athletics App for iPhone
Published:
Last updated:
iPhone
Are you an alum of the University of Kansas or a fan of Kansas Athletics? If so, you'll want to grab the Kansas Jayhawks official mobile app. 
Kansas is a always a major power in college basketball, but with this app you'll find content for all Kansas athletics. Get breaking news, stats, schedules and times, ticket info, on-demand video, live audio of Jayhawks radio, photos, aggregated Twitter content, and more. Content can be filtered by sport and  you'll find each sports categorized by season.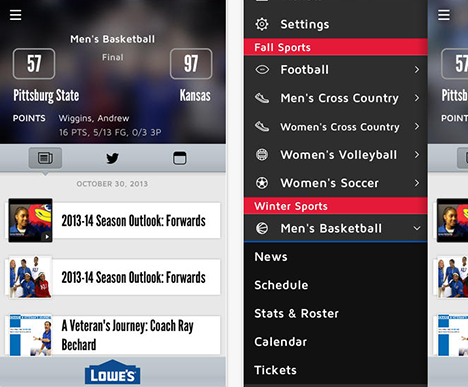 As of this post, the Kansas Jayhawks app is only available on for iOS ( iPhone or iPod Touch).
Cost: Free
Download
Download Kansas Jayhawks Official Mobile App for iOS




by