Watch MLB Playoffs Online or Mobile: 2013 Viewing Guide
So you want to catch the MLB Playoffs, but can't be in front of your TV? Here are your online and mobile viewing options for the 2013 playoffs. 
There are a couple options for watching the MLB Playoffs online, including a new option for 2013. These options, unfortunately only cover the Wild Card, ALDS, NLDS, and NL Championship series. Sadly, neither the ALCS nor the World Series will be available for live streaming.
Watch TBS Online or mobile & tablet devices
Earlier this year, TBS began live streaming both online and through mobile apps. This feature, as you might expect is only available to those who subscribe to TBS through a participating cable or satellite provider. Most (but not all) of the major providers are participating at this point. This option delivers the full TV experience to your browser or mobile devices.
UPDATE (10/3/2013): I'm not sure why, but I got a message during the Pirates-Reds game that the game was unavailable on my device (Both on iPad & Computer). However, I was able to watch the Indians-Rays game online with no issue.
Watch TBS App  – iPad | iPhone | Android Phones | Android Tablets
Postseason.TV – Online and Mobile through MLB At Bat 13 App
Postseason.TV is live alternate angle companion coverage of the 2013 Wild Card, Division Series, and NL Championship series games. A subscription cost $4.99 and allows you to watch via your computer browser or the MLB At Bat app. While it does give you the audio of the TV telecast, it provides alternate camera angle for the games and delivers a different viewing experience than you'll get with TV. Dynamic camera work it replaced by a variety static cameras designed to show view you might not always get on TV. If you are using Postseason.TV as a viewing replacement, the Home Plate view is probably your best bet.
Visit MLB.com to order Postseason.TV, or for more detailed information, check out our overview of Postseason.TV.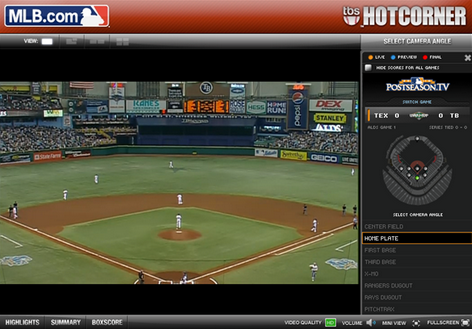 It's shame that Fox hasn't yet put together an option to watch their game online, but at least cord cutters have an option with Postseason.TV. For those who rely solely on mobile for there baseball playoff viewing, they might have to rely on listening to the game rather than watching.




by