CBSSports Adds All-22 View to College Football Live Streaming
If you plan on watching some SEC football online this fall, CBSSports.com has an interesting new viewing option for you. New for 2013 is the option to watch the All-22 view live stream online or via your mobile or tablet device. The "All-22" view allows you to essentially see the entire field as if you were sitting in the stands, rather than the focused area of a typical TV camera.  The All-22 view also includes the CBS telecast audio.
You can access the CBS Sports College Football live streams at www.cbssports.com/video/player/sec-live, or in the CBS Sports mobile apps. To find the live stream in the mobile app, go to the "Scores" section and look for the game  that says "Watch Live."
The will take you to the Game Center where you can choose to watch All-22 or Broadcast.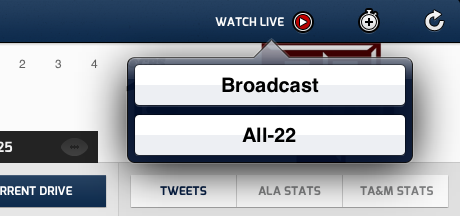 We've seen the NFL add this feature to it's Game Rewind product last season, but it lacked any audio accompaniment and, of course, you couldn't watch it live. It's a pretty exciting new feature that real football junkies are sure to enjoy.




by