It Appears Madden NFL 25 Anniversary Edition with NFL Sunday Ticket is Sold Out
Well, the deal that had NFL fans scrambling to Amazon.com to gobble up the new Madden 25 Anniversary Edition seems to be over. 
The link to Madden 25 Anniversary Edition on Amazon shows both the PS3 and the XBox 360 editions to be "Currently unavailable."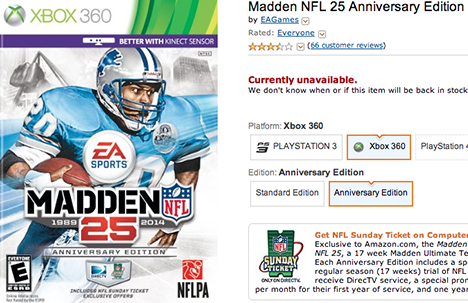 With only reported 100,000 copies available, it not the least bit surprising that this deal didn't even last until the first Sunday of NFL football. It was announced by Amazon last week that the Anniversary Edition broke Amazon pre-order records for sports games. You may be able to pick a copy up on ebay, but make sure you are getting an unopened copy with the NFL Sunday Ticket code. A quick check of the online auction site shows a lot of copies being sold without the code.




by