Top NFL Apps for iPad
The NFL season kicks off this weekend. Here's a list of NFL Apps for your iPad that deliver the latest NFL News and information, and even let you watch NFL games. 
NFL Mobile (Free)
The NFL Mobile app has been rebranded for 2013 and made available to everyone regardless of network affiliation. Video clips are now available to everyone on-demand. You also get the latest news, scores, schedule, standings, and ability to set your favorite team. If you are a customer of a participating TV Provider (AT&T U-Verse, Cox, Dish, Optimum, or FIOS) with NFL Network and/or NFL RedZone as part of your subscription, you can log in with your credentials and watch live stream on your iPad.
Download NFL Mobile for iPad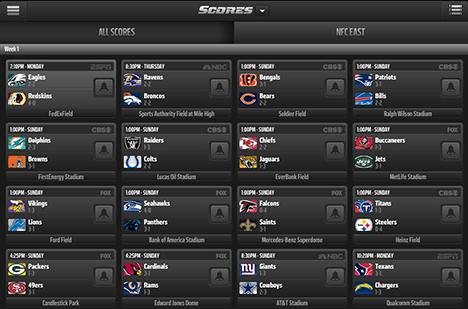 NBC Sports Talk (Free)
If you want the latest news and rumor from across the NFL, you probably ant to read ProFootballTalk.com. PFT doesn't have it's own standalone app, but rather it's bundled in with the other NBC Sports blogs in the NBC SportsTalk app.
Download NBC Sports Talk for iPad from the App Store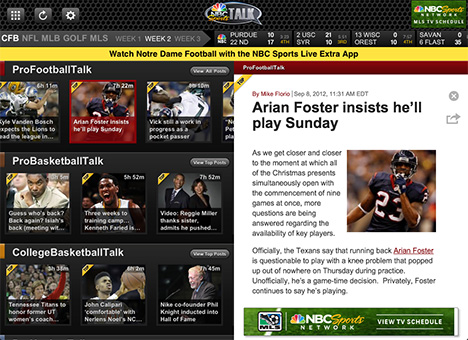 NFL Sunday Ticket (NFL Sunday Ticket Subscription required)
For NFL Sunday Ticket subscribers the NFL Sunday Ticket app will give you live coverage of every out-of-market NFL game each Sunday afternoon as well as the NFL Red Zone Channel. If you'd like to have the NFL Sunday Ticket but can't get DirecTV where you live, you might want to purchase the Online only version of NFL Sunday Ticket which includes iPad and other mobile device access. While supplies last for 2013, you can also get NFL Sunday Ticket for your iPad (as well as for computer and mobile) as part of the Madden 25 Anniversary Edition exclusively from Amazon.com. It's a pretty great deal even if you don't play Madden!
Download Sunday Ticket – DIRECTV, Inc. from the App Store.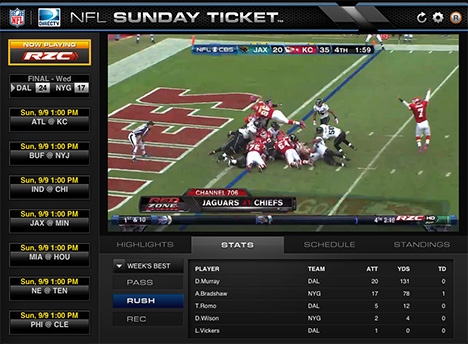 NFL Game Rewind (Subscription Required)
NFL Game Rewind lets you watch every NFL game on-demand beginning the day after the game. There is a variety of subscriptions for NFL Game Rewind. The Season package ($39.99) gives you access to all games on-demand for the entire NFL season. The Season Plus package ($69.99) gives you access for the full year, plus Coaches Film and a telestrator feature. New in 2013 is a "Follow Your Team" subscription that lets you watch only your favorite team for $29.99 through the 2013 season. There is also a Weekly subscription that gives you access for 7 days.
Subscriptions give you access to archives going back to 2009 and beginning with 2012 they now have condensed games which shows every play from whistle to whistle in about 30 minutes.
For more details, check out our full review of NFL Game Rewind of the iPad. About the only downside is that AirPlay mirroring is disabled so you can't stream it to your TV via an Apple TV.
Download NFL Game Rewind from the App Store.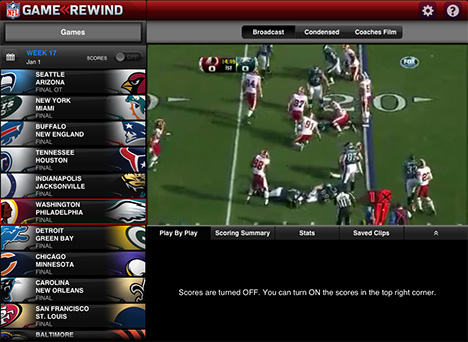 WatchESPN (Free – ESPN Subscription Required)
If you have ESPN as part of your TV package with one of the participating TV providers, you can log in and watch most of the ESPN family of networks live on your iPad. This includes all of ESPN's NFL programming like Monday Night Football, Sunday NFL Countdown, NFL Live, NFL Matchup, and more.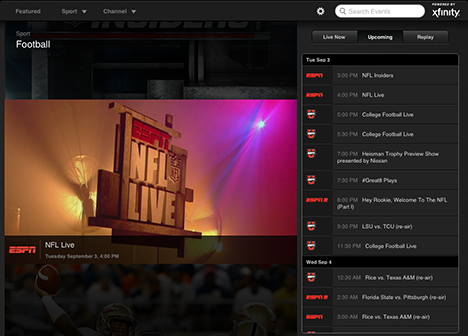 Pro Football Insider (Free)
The latest news, rumors, and inside information from Pro Football Weekly. Integrated Twitter feed of NFL players, scores, schedules, standings, transactions, and loads of video content.
Download Pro Football Insider from the App Store.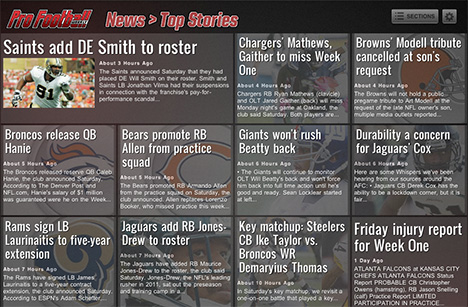 Pro Football Radio & Live Scores + Highlights ($0.99)
Pro Football Radio app aggregates radio streams of NFL games in one convenient place. It's not perfect as some streams get restricted by NFL franchises, and the app's UI isn't exactly a thing of beauty, but the developer is very diligent about updates and you can usually find the stream you are looking for. It also has a schedule and videos in the podcast section.
Pro Football Radio & Live Scores + Highlights – JJACR Apps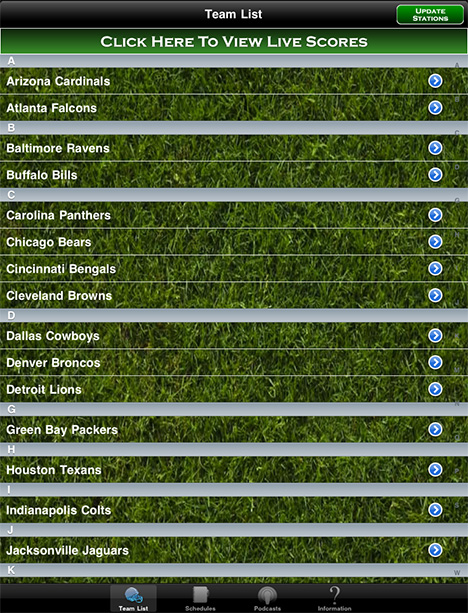 by