NFL Mobile Updated for 2013: Now Available All Carriers (Well, Except Live Video)
The NFL Mobile app has been updated with a new look and feel for 2013. One of the big changes is NFL Mobile will now be available to all carriers and eligible devices, not just those of Verizon customers. Well, except for one huge caveat… 
If you aren't a Verizon customer, you won't be able to watch any of the live streaming video content. If you are a Verizon customer, for a $5 monthly charge (same as last season) you'll be able to get live streaming Monday Night Football, Sunday Night Football, Thursday Night Football, NFL RedZone, and 24/7 NFL Network.
In addition, everyone can now watch highlights and  video clips, including videos on demand that had previously only been available to Verizon customers. You'll also be able to access NFL.com fantasy information, Fans can also listen to audio broadcasts from games.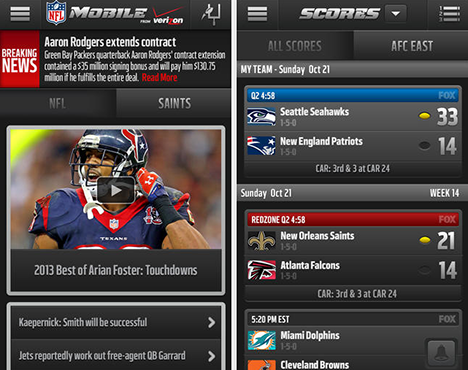 Basically, the NFL consolidated it's two apps (one for Verizon customers and the one for everyone else) into one single mobile app.
What about tablets? Well, according to allthingsd.com:
NFL Mobile will also work on tablets, but in that case, it's a different set of rights: Certain pay TV subscribers, like Time Warner Cable customers, will get "authenticated" access to NFL RedZone and the NFL Network (including the Thursday night games) for free. But no NBC or ESPN games.
Oh, and if you've rooted your phone, you're out of luck. NFL Mobile will not work on rooted devices.
Links




by