PGA Championship App for iPad and iPhone
The PGA has released the official app for it's 95th playing of the PGA Championship at Oak Hill Country Club, and this year they've added an iPad version. 
Once again the prime feature of the app for most will be the live steaming coverage.  Exclusive marquee group and hole coverage will be available beginning with the first round on Thursday and a CBS simulcast stream will be available over the weekend.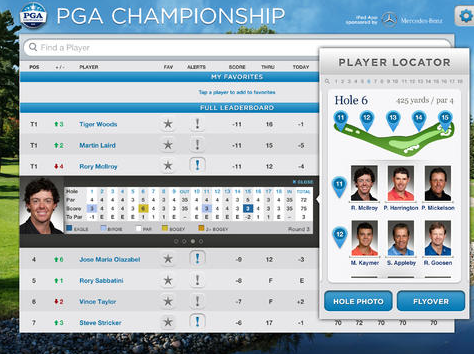 Other features include a detailed leaderboard and scorecards along with the latest news and video highlights, customizable alerts by player, score or breaking news. Plus, you can vote for the final round hole location of the 15th hole. (Pretty cool!) Coverage starts August 8th, 2013.
Sadly for Android users, they still haven't gotten around to developing a version for Android. You can download the PGA Championship app for iPhone or the iPad version from the App Store.
UPDATE: They have now released an Android version of the app.




by