Review: Fantasy Life by Matthew Berry (Audiobook version)
If you play fantasy sports long enough, you are likely to accumulate some interesting, humorous, and even crazy stories. In his new book, "Fantasy Life: The Outrageous, Uplifting, and Heartbreaking World of Fantasy Sports from the Guy Who's Lived It," Matthew Berry shares stories of fantasy sports experiences from bizarre and unique trophies, draft day traditions, crazy rules, embarrassing punishments for losers, and so much more. 
Note: This review is of the audio version of the book. 
Matthew Berry, for those who don't know, is one of ESPN's top fantasy sports "experts." He writes for ESPN.com, appears on ESPN's Fantasy Football Now, and co-host's of the popular ESPN Fantasy Focus Baseball & Football podcasts.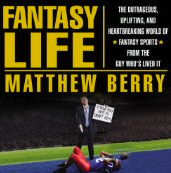 "Fantasy Life" is broken down into sections like "Crazy things people have traded," draft day experiences, obsession with fantasy sports, and even cheating.  Some stories are wild, outlandish or unbelievable, some are hilarious, some are heartwarming, and some are heartbreaking. If you think you've got a strange but true fantasy sports tale, you've probably haven't heard anything yet.
Berry weaves his own life experiences in with the fantasy sports tales of others. He explains how fantasy sports influenced and shaped his life, and how he went from a kid in Texas joining his first roto league, to becoming a Fantasy Football "Expert" for ESPN. It's a journey that included many years in Hollywood as a writer, a job many would see as a dream career, but ultimately left Berry unfulfilled.
The audiobook is read by Matthew Berry himself. As a listener to ESPN Fantasy Focus podcasts (of which Berry is a co-host) I'm quite used to listening to his voice and delivery. He's not exactly Morgan Freeman when it comes to narration, but this isn't exactly dramatic reading material so it really doesn't matter. He throws in some reactions and other emotions at points in the book and even at times starts to chuckle at some of the humorous sections of the book.
Overview
"Fantasy Life" is a quick and easy read that's tough to put down. If you play fantasy sports you will enjoy this book. If you've played fantasy sports for many years you'll likely find yourself relating to many of the stories in one way or another. Berry says in the last chapter that a friend who read an advanced copy told him it read like a "love letter to fantasy sports", and I couldn't agree more. Without spoiling any of the stories, I can say that It will make you laugh, it might even make you cry, or it may just give you some clever or crazy ideas to implement in your own fantasy leagues.
Where to Get "Fantasy Life"
Matthew Berry's "Fantasy Life: The Outrageous, Uplifting, and Heartbreaking World of Fantasy Sports from the Guy Who's Lived It," is available in both hardcover or digital through major book sellers like Amazon, Barnes & Noble, iBookstore and more. Audiobook is available through Amazon or Audible.com. For more information and other places to buy check out the Fantasy Life book website. 




by