BTNtoGo Mobile App Live Streaming Now Available For Comcast Xfinity Customers
With the college football season right around the corner, the BTNtoGo App for Android, iPhone and iPad has been updated to allow live streaming access to Comcast Xfinity subscribers who get the Big Ten Network with their subscription. 
There won't be much in the way of live sports until classes crank back up in the fall, but they still have plenty of "classic games" and other Big Ten features.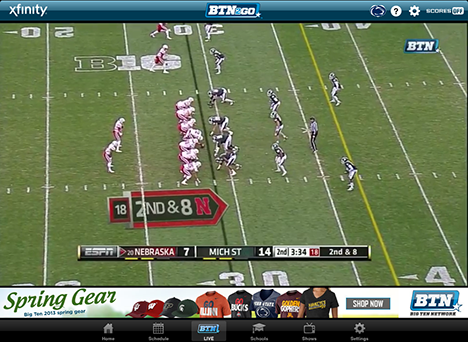 Note: I saw some complaints in the iTunes comments that the app still doesn't work with Comcast Xfinity, but I've had no problem logging in and watching on both my iPad and Android phone.
Links
iPhone: BTNtoGo for iPhone and iPod Touch
iPad: BTNtoGo for iPad
Android: BTNtoGo for Android from Google Play
Android Tablet: BTNtoGo for Android Tablets from Google Play




by