ESPN Fantasy Football Android App for 2013
ESPN's Fantasy Football app has been released for Android, but sadly lacks many of the exciting features that were included in the iOS version. It's pretty much the same Android app we saw last season.

Yes, the 2013 version still allows you to perform the essential fantasy football tasks on you Android devices: add/drops, lineup changes, posts to the league message board, make trades, live scoring, and fantasy news from ESPN's collection of fantasy football experts.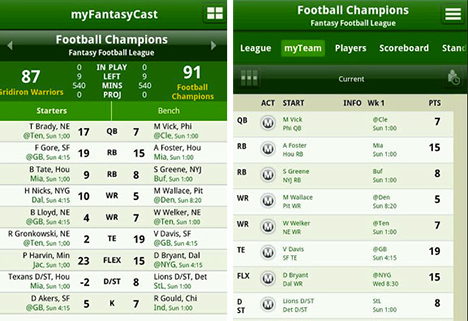 The ESPN Fantasy Football Android app delivers the basics, but its sad to see the iOS version of the ESPN Fantasy Football App get so many needed updates while the Android version is essentially ignored. You can cross your fingers that we see an update in the next coupe weeks, but perhaps you shouldn't hold your breath. ESPN has a bit of a history of allowing the Android versions to lag behind the iOS versions.
Cost: Free
Links
ESPN Fantasy Football from Google Play




by