Find Sports on TV from Your Mobile Device with Bleacher Buddy App from iOS and Android
Want to find which channel is carrying the big game tonight? Bleacher Buddy for iOS and Android provides TV channel information for college and pro team sports. 
Setup requires you to enter your zip code to find your TV provider, or you can let the GPS try to figure it out by pushing the GPS button on the on-screen keypad. It pulled up loads of cable and satellite providers in my area, but there was no option for over the channels.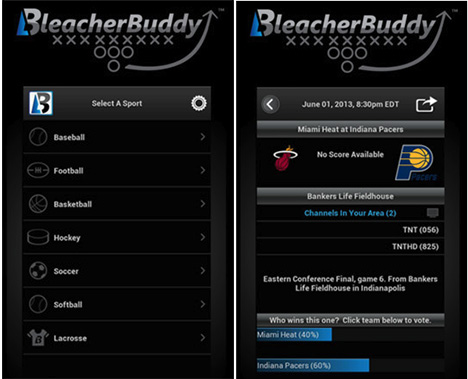 Bleacher Buddy has most of the top team sports (baseball, football, basketball, hockey, soccer, softball, and lacrosse), but currently does not include individual sports like tennis, golf, or NASCAR.
The app is nice if you know what you are looking for, but you won't find a list of current sporting events. So, if you just want to know what sports are playing right now, you'll have to work your way through each sport and league.
Cost: Free, ad-supported
Links
Bleacher Buddy for Android from Google Play
Bleacher Buddy™ for iOS from the App Store




by