WatchESPN App Now Available on Apple TV
WatchESPN app is now available on your Apple TV. The popular ESPN app joins previously available sports apps MLB.TV, NBA.com League Pass Broadband, and NHL GameCenter. 
Apple TV joins the XBox 360 as the only TV connected devices to have the WatchESPN app.
As you might expect, access to the full menu of content is limited to ESPN subscribers through participating TV providers (AT&T U-Verse, Bright House Networks, Charter, Comcast Xfinity, Cox, Midcontinent, Optimum, Time Warner, and Verizon FIOS). By logging in and authenticating you'll get access to ESPN, ESPN2, ESPNU if you get them as part of your TV subscription.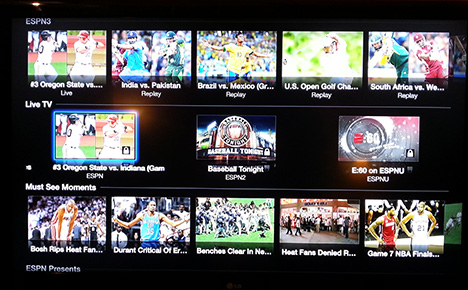 If you are a cord-cutter without a participating TV subscription to ESPN, the watchESPN app will still bring you clips from ESPN programming and ESPN.com along with ESPN3 content (although some ESPN3 content is even blacked out). Most of the ESPN3 content consists of sports or games that don't offer enough mass appeal to be shown on the ESPN TV networks (Cricket, Soccer, Volleyball, etc. (Although, ESPN3 is showing the NBA Finals, which is being broadcast by ABC.) This probably won't be enough for most cord-cutters to find the app useful, but it's a little something extra for sports fans with an Apple TV. Who knows, maybe you'll become a converted cricket fan!
Even ESPN subscribers may not even find the app terribly useful since they could just watch the ESPN networks that they pay for on their TV. However, it would make a nice solution for those single cable box households who don't wish to pay for a second cable box.
If you have an Apple TV and want to get started using WatchESPN, simply update your Apple TV to download the app (along with HBO Go and a handful of other new offerings).




by