Golf History with Peter Alliss iPad App
If you have an interest in the early history of the game Golf, you may want to check out the new Golf History with Peter Alliss iPad app. 
The app (which is exclusively available for the iPad) features over 400 stories, 500 historic photographs and 100 exclusive videos which are narrated by renowned golf commentator Peter Alliss along with other golf historians.
The app is beautifully designed and sports some great images. It covers the origins of golf  beginning with the Scots in the 1400's and running through Bobby Jones' Grand Slam in 1930.
You'll learn about such topics as early golf ball production, the first Open Championship, the inaugural Ryder Cup, and the early years of the US Open.
It's at least worth a "look-see" for golf fans. The initial free content is limited but those of you who want more than the free content can purchase additional modules individually, or unlock all the content for $9.99.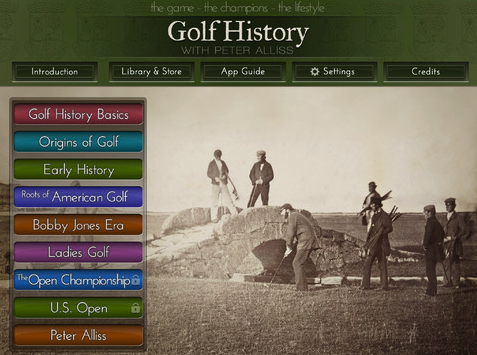 Cost: Free w/ optional in-app upgrade purchases available
Download
Download Golf History with Peter Alliss – Exulto Media Inc. from the App Store




by