Microsoft Surface to Be the Official Tablet of the NFL
As part of a huge $400 million deal with Microsoft announced last week, the NFL will be bringing more technology to the sidelines in the form of Microsoft's Surface Tablet, along with other Microsoft technologies. 
This is a sea change for the NFL who previously banned all computer-type devices on the sidelines. NFL fans are most likely familiar with TV shots of players looking at print-outs and Polaroids of offensive and defensive alignments. Beginning as early as 2014, you'll start to see players and coaches looking at their Microsoft Surface tablets.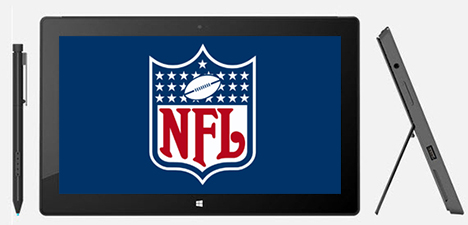 From the NFL Announcement:
This partnership also changes the game for NFL teams because coaches and players will soon have access to a variety of cutting-edge Microsoft solutions, including Surface tablets to enhance on-field communications, photo viewing and play calling. Microsoft and the NFL envision a sideline of the future with players reviewing in-game photos from different camera angles directly from the sideline and head coaches calling plays off connected Surface tablets instead of today's static paper products. With Microsoft technology, NFL coaches, players and other personnel will have the technology they need to improve decision-making and on-field performance.
As part of the deal, the Surface will be the "Official Tablet of the NFL", Windows will be the "Official PC Operating System of the NFL", and Microsoft will be "The Official Sideline Technology Sponsor of the NFL."
According to Digitrends, NFL teams who utilize iPads will still be allowed to have them on the sidelines, but will be required to cover up the Apple logo.




by