Universal Sports Live iPad App Adds Live Streaming Video
Are you a fan of Olympic Sports like skiing cycling, and track and field with a TV subscription that includes the Universal Sports Network? If so, you'll now be able to watch Universal Sports live sporting events on your iPad. 
The caveat is that you need to be a TV subscriber to Universal Sports Network with one of an unfortunately very limited number of TV providers to watch any live video. All other users will be limited to viewing on-demand video clips.
The participating TV providers are currently limited to Dish Network, DirecTV, Bend Broadband, and Hawaiian Telecom. It's a bit surprising that cable giant Comcast isn't one of the providers considering it owns a minority share in Universal Sports Network, but it is what it is.
Universal Sports has exclusive rights to world and national championship events in a wide array of sports, including swimming, track and field, gymnastics, cycling, skiing, figure skating and rugby. In addition to the live video the includes loads of highlights, interviews, and other video features from the world of Olympic sports.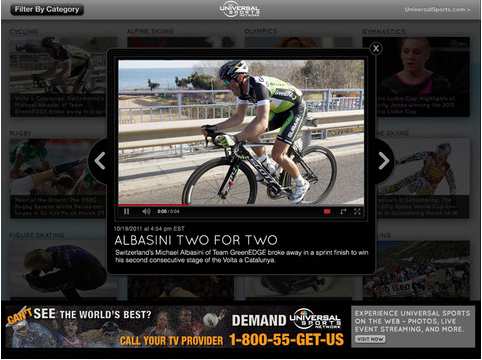 Cost: Free, but requires a TV subscription to Universal Sports Network through a participating TV provider.
Download
Universal Sports Live for iPad from the App Store




by