Without a Cable or Satellite TV Subscription, You Can No Longer Watch Every Game of March Madness Online
Unfortunately, you could pretty much see this one coming sooner or later. Turner Broadcasting had hinted at this move back in the Fall and now it's official. If you don't subscribe to the Turner family of networks (TNT, TBS, TruTV) through your cable or satellite provider, you won't be able to watch games broadcast on those channels online or on you mobile devices. 
Last year fans had the option of either paying $3.99 to watch out of market games online or on mobile, or logging in with TV provider credentials.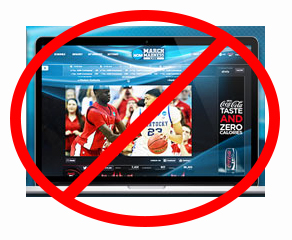 This year, you don't have the option of paying. It's subscribe to cable or satellite, or you are limited to just 4 hours of tournament coverage. It's the TV Everywhere concept that most TV providers have begun to adopt. From a pure business standpoint, the cable companies do this because it's actually more lucrative in the long run to try to get fans to subscribe to cable than it is to collect $3.99 from everyone who wants to watch. It's anti-consumer and it's not fan friendly, but it's the business model the TV Providers have adopted. The 4 hours of free coverage may soften the initial blow for cord cutters, but I would be willing to be this 4 hour free pass won't be available in coming years. It's be interesting to see if this is 4 hours of pure viewing, or if it's 4 hours from when you begin watching. If it's the former, then you may be able to maximize your viewing pleasure "save" the free viewing for the final minutes of a number of games.
Fortunately, the games shown on CBS will still be available online and on mobile for everyone. So for cord cutters, you'll still be able to watch all the games online or mobile that you could watch with good old over the air TV antennae. It's especially sad to this happen since the NCAA Men's Basketball tournament has long been a leader in providing live streaming sporting events.




by